Chicago Blackhawks Morning Links- Four Jerks Don't Represent All Fans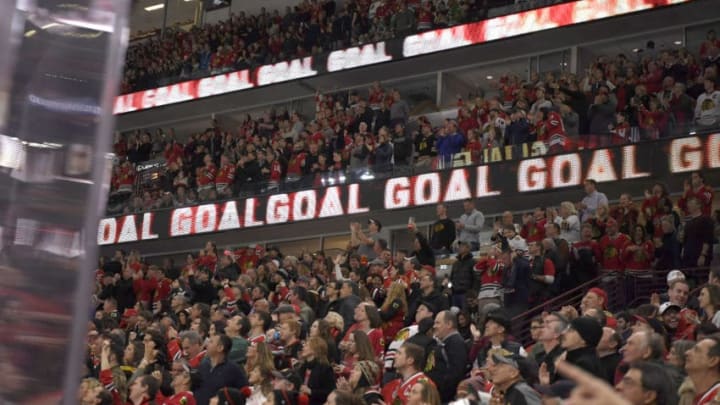 CHICAGO, IL - FEBRUARY 17: Chicago Blackhawks fans celebrate a Chicago Blackhawks goal in the third period of play during a game between the Chicago Blackhawks and the Washington Capitals on February 17, 2018, at the United Center in Chicago, Illinois. (Photo by Robin Alam/Icon Sportswire via Getty Images) /
Good morning Chicago Blackhawks fans! What should have been a fun and festive win after losing eight straight games ended up being an ugly scene in Chicago thanks to four stupid fans! 
What four fans said to Devante Smith-Pelly on Saturday night was totally unacceptable period, and I'm thankful that the Chicago Blackhawks' staff and United Center staff took immediate action.  There is no place for that kind of taunting ever! Through Twitter and our website we had many comments, and most of them were right on point!
There were many articles written about the incident all day Sunday, and I hope something is done permanently to those four fans such as never getting inside the United Center ever again.  This isn't what the Chicago Blackhawks fanbase is all about! Those four are not a snapshot of what I ever want to be lumped into! It's very upsetting to me that they even call themselves Blackhawks fans!
Here is what the Blackhawks said late Saturday night.
Here are some links to start your work week starting with the NHL statement about the terrible incident on Saturday night (NHL)
What did Joel Quenneville have to say about the win on Saturday night (Blackhawks)
Hey the Hawks finally snapped their long losing streak (Daily Herald)
How will the Chicago Blackhawks approach the trade deadline (CSN)
If you missed it, Team Russia cruised right by Team USA Saturday (Bleacher Report)
The Nashville Predators are hitting a bit of a rough patch (Predlines)
Watch Al Greer get attacked by Dustin Byfuglien (Mile High Sticking)
Justin Williams wants to get the Hurricanes back to the playoffs (SI)
Looking back at 5 bad trades in Boston Bruins history (Causeway Crowd)
MIke Babcock calls up Curlers for encouragement (Sportsnet)
Next: Kane Picks Up Assist #500
Connor McDavid scores another hat trick on Sunday (TSN)