Chicago Blackhawks-Capitals Incident Shows Racism Still Plagues NHL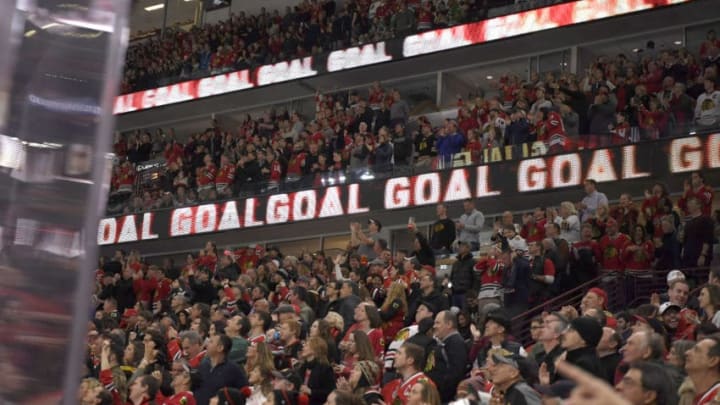 CHICAGO, IL - FEBRUARY 17: Chicago Blackhawks fans celebrate a Chicago Blackhawks goal in the third period of play during a game between the Chicago Blackhawks and the Washington Capitals on February 17, 2018, at the United Center in Chicago, Illinois. (Photo by Robin Alam/Icon Sportswire via Getty Images) /
We've come to a day and age where professional sports have ultimately brought everyone together. No matter your race, color, ethnicity or sexuality, sports have become a safe haven for everyone. Saturday's Chicago Blackhawks game did not show that.
The NHL is a very accepting professional sports league. It's arguably one of the most honorable, yet passionate leagues out of any North American sport. With the NHL's fairly new "Hockey Is For Everyone" campaign, the naming of LGBTQ ambassadors from each team and a growing presence of the game around the world, it's a sport meant for anyone.
Unfortunately, there are some who will put that into question.
During Saturday night's 7-1 win over the Washington Capitals, four Chicago Blackhawks fans took it upon themselves to verbally irritate Capitals forward Devante Smith-Pelly. Sometime in the duration of his time in the penalty box, those fans decided to say racist remarks to Smith-Pelly to get under his skin.
It has been confirmed that the fans were chanting, "Basketball, basketball, basketball" as a way to get on his nerves.
Due to the unfortunate circumstances, the Blackhawks issued this statement on their Twitter account.
This is unacceptable. The remarks made by these fans were in no way funny or accurate. The significance of chanting the word basketball three times was a direct insult to Smith-Pelly, signifying that he should probably playing basketball because of the league's smaller black community.
Fans come together against racism
With roughly 30 people of color within the 31 NHL teams, it's beyond frustrating. The only positive we can take away from this unfortunate situation, is the amount of awareness from the Blackhawks community on this subject.
Take a look at some tweets below:
Next: Michal Kempny Trade Dangerous For Blackhawks
It's truly embarrassing to see from a fan standpoint, but from a moral standpoint as well. Hopefully, we can all grow from this display of racism and become more accepting.