Chicago Blackhawks Closing Out 2017-18 Season With A Purpose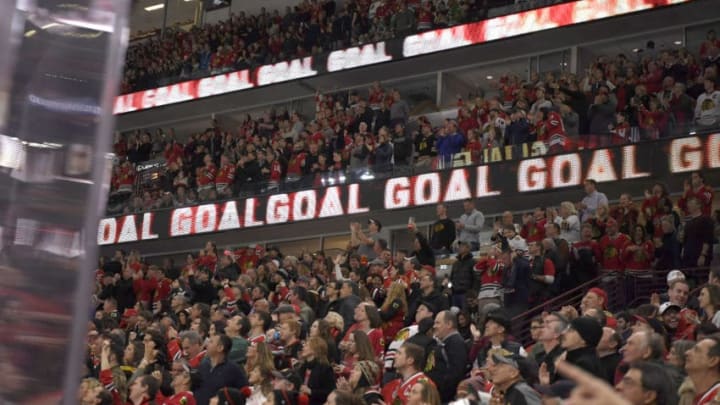 CHICAGO, IL - FEBRUARY 17: Chicago Blackhawks fans celebrate a Chicago Blackhawks goal in the third period of play during a game between the Chicago Blackhawks and the Washington Capitals on February 17, 2018, at the United Center in Chicago, Illinois. (Photo by Robin Alam/Icon Sportswire via Getty Images) /
The disappointing 2017-2018 season winds down, but the Chicago Blackhawks have much to learn in their final 12 games
After nine consecutive years of playoff appearances, the Chicago Blackhawks' streak comes to a screeching halt here in 2018.  But as there is no hope for glory this year, the 'Hawks still have a purpose in their final games.
A widened gap between an aging core and a group of inexperienced youngsters contributed to the team's downfall this season.  The 'Hawks will need to find out which of those young players are keepers.
While the 'Hawks have posted a 12-18-2 record in 2018, everyone has come to realize just how important goalie Corey Crawford is to the team's success.  The loss of their starting goaltender has exposed all the defensive weaknesses of this team.
And the defensive weaknesses have affected the offensive game as well.  As we've pointed out all season, the scrambling play in the defensive zone has wasted many forward line shifts.
So going forward, what can the 'Hawks find out about themselves?
Who's on first?
The latest incarnation of Line 1 has been Brandon Saad–Jonathan Toews–Patrick Kane.  They've been noticeable since being formed.  An important statistic to note was brought up by Second City Hockey:
It's no surprise that Toews can still produce when playing with the right wingers.  However, this surge has only occurred after Kane joined him on right wing.
More from Analysis
Saad has been the captain's left wing for most of the season, and has not rekindled the flame they once had.  Saad can still strike fear into opponents with his powerful skating, but he's had problems making and receiving passes.
His shot accuracy (only 7 percent compared to a career 11 percent shots for goals) has been dreadful as well.  The takeaway here is that Saad should work with a development coach over the summer and work on these issues.
The "nuclear option" of Toews and Kane should continue going forward.  They've been great together.  You want to see Toews being a playmaker and not just a grinder, and this happens when he plays with Kane.  Whether Saad remains at left wing will be up to Saad.
I'll take a second helping, please
The best recent Line 2 combination has been Alex DeBrincat–Nick Schmaltz–Vinnie Hinostroza.  Their youthful mix of speed and skill has resulted in a high volume of quality scoring chances.
At the start of the season, I was not a Hinostroza fan.  I felt that his stickhandling was not up to par with his superior skating.  But he has won me over with his performances since being recalled.
Per Corsica, he continues to lead the team in points per 60 minutes.  He's been dropped to the fourth line in the past two games, but that has been done to give other youngsters a chance to showcase their skills in the top nine.  The 'Hawks know what they have in him, and should look to re-sign him to an extension this summer.
Schmaltz has emerged as a 20-goal scorer as he develops into a legitimate top-six center. With some strength conditioning and some work at the faceoff dot, his upward trend will continue next season.  It's a pleasure to watch this young man at work.
DeBrincat has lived up to all the hype as a scoring phenom from the OHL.  With a slash of 22-20-42, he has proven all the naysayers wrong.  This "too-small-for-the-NHL," 5-foot-7, 165-pound 20-year-old is a real NHL impact player.
Although he tends to give up the puck in dangerous areas (as did Kane in his first season), his vision and skill are undeniable.  Stan Bowman struck gold by selecting him in the second round of the 2016 draft.  He's going to be a key piece in the 2018-19 season.  He just needs to work on strength and making smarter plays while up high in the offensive zone.  He's a potential top-line left wing.
This Line 2 is not only entertaining to watch, it is a lethal second punch reminiscent of Tampa Bay's "Triplets Line."
Live Feed
Da Windy City
Tree turty tree
The latest version of Line 3 has been Tomas Jurco–Artem Anisimov–Matthew Highmore.  We are all familiar with Anisimov.  He's been a consistent 20-goal scorer since arriving here from Columbus in the first Saad trade.
While he suffers in production during 5-on-5 play, he excels on the powerplay and is a solid penalty killer.  Many have called for trading him, but he brings size and skill to a team lacking another player of this type.
He is one of the few players who will provide effective net-front presence.  His $4.55M salary is actually a good value considering there is no one else to replace him.  Line 3 suits him well, but he will need some better wingers.
Jurco has been better than last year's Jurco.  But it's not hard to be better than what he was last year, which was a non-factor.  He continues to look nice trying to make plays, but continues to lack production.
He's the perfect underachiever, the guy with great hands but not the heart to go along with it.  At age 25, he's late to the game and I personally don't think he's going to develop much further.  As a restricted free agent, he'd have to sign at a bargain rate to stay on, in the way Mark McNeill (remember him?) did.  Personally, I'd cut bait with him as younger prospects will pass him by.
Highmore was called up from Rockford after leading the team in scoring with a slash of 21-14-35 in 56 games.  This undrafted rookie has battled his way to the NHL with a high revving motor.  These types of players deserve scrutiny, as the will to win sometimes outweighs pure skill.  He's signed through 2020, so there's time to watch what he does.
Four on the floor
There have been many versions of Line 4, but the two players who have stuck out are David Kampf and the recently recalled John Hayden.
Kampf has been a solid addition after being recalled from Rockford.  He's an above-average skater with size and some scoring ability.  What stands out most is his relentless style of play.  He's had a positive Corsi-for while starting only 48.3 percent of his shifts in the offensive zone.
With Schmaltz, he has been an effective penalty killer.  With this versatility, he can become the shutdown center the 'Hawks have lacked since losing Marcus Kruger.
Hayden had played with Tommy Wingels and Lance Bouma earlier in the season to form an intimidating Line 4.  But the Blackhawks organization wants to see what he can do in the top six.
He's been playing with Schmaltz and DeBrincat on Line 2 as the experiment, and so far it's been a mixed bag.  Here's a kid with a purpose as he needs to distinguish himself from the pack of young players.  He's signed through 2019, so he has time, but time could catch up with him.
Patrick Sharp has dropped down to Line 4, and he's not a part of the future.  He was here from before the start of the dynasty run and was a great player and leader.  We can't thank him enough for a brilliant career here.
And a cast of thousands, or at least these two guys
Anthony Duclair has shown what he's known for, and that is extreme speed but spotty scoring.  At age 22, he still has a high ceiling with his skill set.  It's a shame that he was injured in the Bruins game and may miss the rest of the season.  He may be worth re-signing.
Dylan Sikura has been setting the college hockey world on fire at Northeastern University.  His slash line of 20-32-52 in 33 games is gaudy enough to put him in contention for the Hobey Baker Award.
He has not yet signed with the 'Hawks and if he does, he still might not play this season.  Northeastern's playoff run could extend past the end of the NHL season.  Scouting reports indicate he may be NHL-ready, and coach Joel Quenneville has stated there's a spot for him if he can play.  It would be fun to see a kid who can do this.
Defensive about the defense
After Duncan Keith, there are no clear cut 2-4 defensemen.  He has been overused and abused this season with the lack of defensive depth.  In Sunday's game against the Bruins, Keith demonstrated his elite skills in shutting down the dynamic David Pastrnak.
Keith is still a great defenseman, but not so great when overworked.  Keith needs a solid stay-at-home partner to regain his Conn Smythe form next season.
Jordan Oesterle has played alongside Keith, but he's really a solid No. 4 defenseman, maybe a No. 3.  So that still leaves two top-four defensemen Bowman will have to acquire this summer.  Hint: Look at the New York Islanders, who will have to re-sign John Tavares and Brock Nelson, and have several free agent defensemen.
More from Analysis
We still don't know what Connor Murphy is at this point.  Coach Q will have to give him meaningful minutes to correctly evaluate and more importantly, to correctly develop his play.  If there is a significant purpose to the end of this season, this is one of the big ones.
Bowman recently signed Erik Gustafsson and Jan Rutta to contract extensions.  They only project out as third-pairing guys.  Gustafsson still needs to find his way in the defensive zone.  I was high on Rutta early in the season, but his durability became an issue.
The two contract extensions muddy the waters with a mix of Brent Seabrook and Gustav Forsling as third-pairing guys.  Luc Snuggerud looked good in training camp, but is yet another third-pairing guy.  Super-prospect Henri Jokiharju is only 19 years old and will probably not be ready for the NHL next year.  The same goes for prospects Blake Hillman (22 years old) and Chad Krys (19 years old).
Everything starts with the defense limiting play in the defensive zone and making quick, clean zone exits.  So getting a good read on these players is vital in being able to design the defensive corps for next season.
If Bowman really intends to keep all these defensemen, the 'Hawks will be looking at yet another year of scrambly defensive zone play.  If Bowman wants to upgrade the defense, he'll have to decide whom to move in trade.
Mind the netminders
The loss of Crawford has exposed all the defensive flaws this team has had since last year.  Anton Forsberg and J-F Berube have shown flashes of both good and bad.  But really, any goalie not named Crawford would have trouble with the terrible defensive play in front of him.
These two goalies definitely have a purpose in mind as they will battle for the backup role for next year.  There is also a wild card with prospect Ivan Nalimov starting to heat up over in Russia.
These last 12 games have no meaning as far as the season itself is concerned.  However, the flip side of the equation is the 'Hawks, and Quenneville specifically, will have to put all players in positions to succeed to correctly assess their value to the team going forward.
As I've mentioned before, this team is not that far away from contending again.  The organization will have to be much smarter in evaluating talent and in how it utilizes those talents.