Chicago Blackhawks' Collin Delia Called Up For Late-Season Stint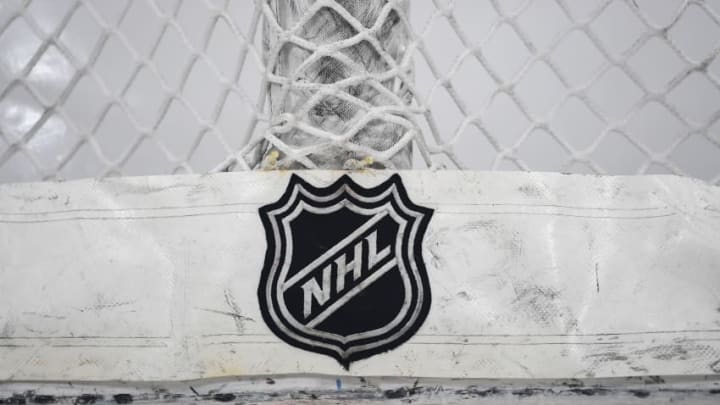 CHICAGO, IL - JANUARY 22: A general view of an NHL logo on the back of a net during warms up prior to a game between the Chicago Blackhawks and the Tampa Bay Lightning on January 22, 2018, at the United Center in Chicago, IL. (Photo by Patrick Gorski/Icon Sportswire via Getty Images) /
After the Chicago Blackhawks moved one of their goaltenders to waivers Tuesday, it was clear either Jeff Glass or Collin Delia would get promoted. We got our answer to that on Wednesday.
For the final five games of the Chicago Blackhawks' 2017-18 season, they're going to deploy a fifth goaltender on the year. Well, one would assume as much after Collin Delia was recalled from the Rockford IceHogs on Wednesday.
After the Blackhawks waive netminder J.F. Berube on Tuesday, it was known they'd need to replace him with someone from the AHL. The options were Delia or Jeff Glass, with the latter already spending some time in the NHL this season.
The Blackhawks turned to Delia, who has risen through the Blackhawks' ranks at hyper-speed. While it'd be unfair to discount Delia's talent and ability playing a role in this, we should also consider the Blackhawks are quite bad this season, and that Corey Crawford has been injured. This is the perfect situation to add a goaltender like Delia.
Delia posted a quality record with so-so stats in 24 games at the AHL level this season. His ledger is 14-6-2 with a .904/2.68 slashline. This is an improvement over his 10-game stint this season with the ECHL's Indy Fuel, with whom he posted a .887/4.12 slashline.
Delia's future with the organization
The Blackhawks aren't exactly a black hole at NHL-level goaltending depth, but it's hard to say they're far from it right now.
More from Blackhawks News
Anton Forsberg has been hit-and-miss this season, and the misses have caused coach Joel Quenneville to overreact and turn to Berube or Glass without a second thought. Neither of these backup options have proven effective.
With Crow's long-term health an obvious concern, that puts extra importance on the Blackhawks developing some goaltending talent in a hurry. Delia and 2016 draftee Wouter Peeters essentially have that market cornered in the Blackhawks organization.
So Delia's call-up/signing, like those of Victor Ejdsall, Blake Hillman and Dylan Sikura this week, is all in the name of seeing what the Blackhawks have for 2018-19. However, this is especially important in the case of Delia, for all the reasons previously mentioned.
I'm not saying Delia has to come in and pitch six consecutive shutouts in his first NHL action. That would be ludicrous to expect. However, it would give the Blackhawks comfort to know one of their young goaltenders can hack it at the NHL level playing behind a pretty suspect lineup.
This would be especially true given the final five games' competition — all Central Division opponents. The schedule features two games apiece against St. Louis and Winnipeg, with the other contest against Colorado. If Delia can perform well in whatever goal time he sees during these games, it would give him a leg up trying to crack the 2018-19 Blackhawks roster.
Next: Blackhawks Making Moves To Aid IceHogs
That doesn't necessarily have to be the end goal, but with the Blackhawks' goaltending situation in a serious state of flux, this is an important (albeit brief) opportunity for Delia.