Chicago Blackhawks Morning Links: Year-End Reviews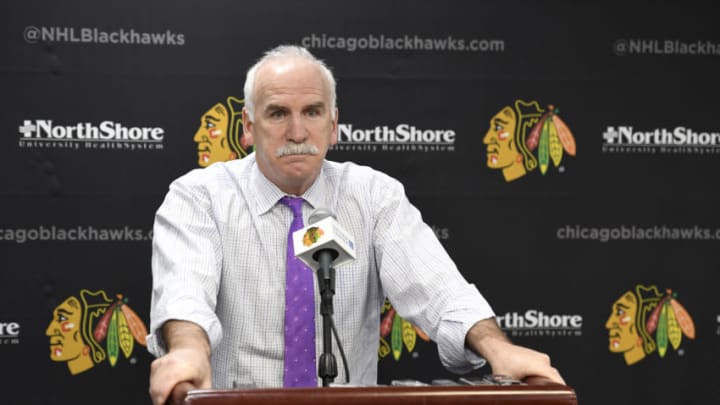 CHICAGO, IL - APRIL 06: Joel Quenneville, head coach of the Chicago Blackhawks, speaks to the press after the 4-1 loss to the St. Louis Blues at the United Center on April 6, 2018 in Chicago, Illinois. (Photo by Bill Smith/NHLI via Getty Images) /
The Chicago Blackhawks reflected on their 2017-18 season Monday knowing they were capable of much more
It was NHL locker cleanout day Monday, the earliest the Chicago Blackhawks have had to do this in almost a decade.  GM Stan Bowman first met with the media and opened the floor to questions.  Questions mostly focused on the team being better defensively, key players underachieving, and the future outlook of keeping young talent.
It wasn't the same Stan Bowman from last season who was irate and embarrassed after the Blackhawks were swept from the first round by the Predators.  This was a defeated Bowman that just wanted to leave the 2017-18 season in the past, like the rest of us.
Joel Quenneville was next who seems to have the same demeanor regardless of success or failure.  He is always trying to get better which is a great quality.  He too was disappointed with the results of the season and focused on a changing NHL that the players and coaches have to adapt to.
Overall, the whole thing just felt generic.  Same goes for the players interviews.  Just everything we needed to hear and a lot of shrugging.
If you get an opportunity, listen to the Blackhawks Talk Podcast with Pat Boyle on NBC Sports Chicago.  The crew goes in depth about what went wrong and what needs to change.  The previous episode was also great with Adam Burish who doesn't hold back on the criticisms of this team.
It was also released that several of the Blackhawks will be taking part in the World Championship, most notably Patrick Kane who will be captain of Team USA.
Overall, it was hard to watch such a talented team fall short, but they will be back next season.  There will be changes during the offseason that Blackhawk Up will cover, but expect this team to be reevaluated.  Because Quenneville and Bowman are both returning tells me that more drastic changes will be made on the ice.
The rebuild has already begun and fans should be excited about it.  We've seen this team resurrect itself from nothing once before, and hopefully this time the road to the promise land doesn't take 49 years.
Next: For 2018-19 Blackhawks, Change Certainly Coming
Morning links