Chicago Blackhawks' Carl Dahlstrom Should Be Next Man Up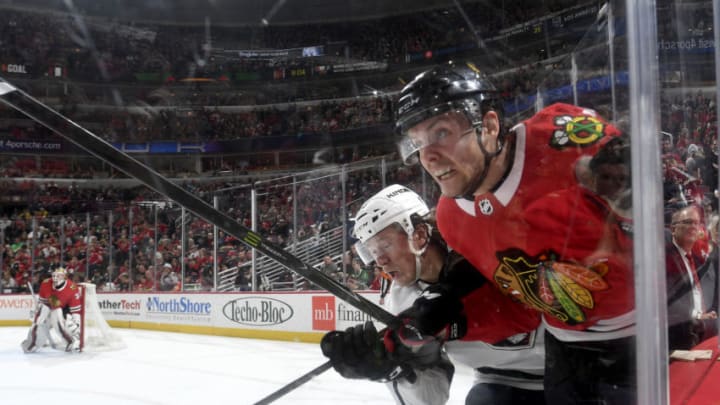 CHICAGO, IL - FEBRUARY 19: Tyler Toffoli #73 of the Los Angeles Kings and Carl Dahlstrom #63 of the Chicago Blackhawks get physical by the boards in the second period at the United Center on February 19, 2018 in Chicago, Illinois. (Photo by Bill Smith/NHLI via Getty Images) /
If the Chicago Blackhawks are serious about getting their players to the next level, Carl Dahlstrom needs to be rewarded for his progress
When news broke Tuesday about the signing of Chicago Blackhawks 2017 first-round pick Henri Jokiharju, fans rejoiced hoping that reinforcements are hopefully on the way.  After a long season of watching Brent Seabrook get blown by and counting the games Duncan Keith went without a goal, it was frustrating watching what has been a solid defensive core get old overnight.
But over the last three seasons, the 'Hawks have been stockpiling young defensemen in their system hoping a few of them become everyday NHL players.
It's easy for fans to want top draft selections like Jokiharju and 2017 second-round pick Ian Mitchell to come up quickly, but defensemen typically take longer to adjust to the pro game.  Generally they have to play at least a full season in the American Hockey League, if not more, before they see NHL ice.
Unlike players like Nick Schmaltz and Alex DeBrincat, who more or less made the team right away, the learning curve for defensemen is steeper.
One player who has been doing his time and honing his craft in the minors has been Carl Dahlstrom.  The 6-foot-4 defenseman, selected in the second round of the 2013 draft, has now spent three seasons with the Rockford IceHogs.
This year he scored three goals and 25 assists while posting a plus/minus of plus-14.  Dahlstrom was named to the AHL All-Star team along with teammate Matthew Highmore, and Dahlstrom also scored nine points in 13 playoff games.
Dahlstrom got the call up to the Blackhawks and spent 11 games up in Chicago.  There, he averaged 17:31 of ice time and had three assists.  He showed flashes of great patience and played a simple, safe game that stood out.
Like many rookies do, he deferred to many of the veterans on the team, but the experience gave him a lot of confidence when he returned to Rockford for the Calder Cup Playoffs.
What the Blackhawks need right now is size, reliability and smart-playing defensemen to help solidify the back end.  Scoring has never been a problem for this team and it won't be in the future.
The team's overall commitment to defense has to improve, and giving a guy like Dahlstrom another chance could be beneficial.  The 'Hawks haven't drafted many defensemen and developed them to the pro level since guys like Seabrook, Keith and Niklas Hjalmarsson.  With that in mind, it's time to start trusting what you have in these young guys who got a taste of winning this year in Rockford.
Training camp is going to be highly competitive again this fall, but it's important to remember the kinds of players who make the team.  It may be because their production and maturity was at a high level like DeBrincat, or their effort was relentless like Kyle Baun.
Next: Blackhawks Hope to Find Defensive Win in Offseason
It's possible a player can make the squad and be sent down shortly after, or never leave.  That will be up to Mr. Dahlstrom.  But there is no question he's ready to graduate to the next level.