Blackhawks News
Small-named Stand Outs in Chicago Blackhawks' Development Camp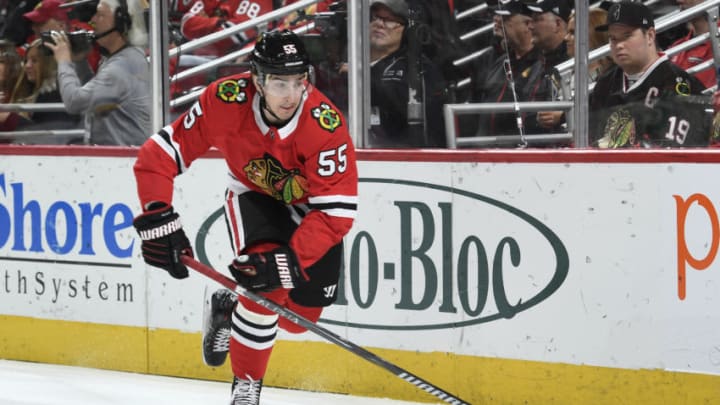 CHICAGO, IL - APRIL 06: Blake Hillman #55 of the Chicago Blackhawks skates in the second period against the St. Louis Blues at the United Center on April 6, 2018 in Chicago, Illinois. The St. Louis Blues defeated the Chicago Blackhawks 4-1. (Photo by Bill Smith/NHLI via Getty Images) /
Ian Mitchell (46)
Here's a quick clip of Ian Mitchell (46 in red) riffling a shot past goaltender Peyton Jones during Wednesday's 3 on 3 scrimmage.

Mark Lazerus of the Sun-Times called it a "big-league wrister." Well, let's hope the rest of him is big league quality as well. Mitchell served as Hillman's defensive partner at the University of Denver last season. While Blake his debut last year, it's looking like Mitchell could be poised to do the same at some point sooner rather than later.
Live Feed
Da Windy City
Chad Krys (36)
Now that there's multiple first round defensemen attending camp, Krys is a guy who's flown somewhat under the radar during the week. However, he's stood out to me a number of times throughout the first half of camp.
Here's a quick clip of Krys in a drill.
Boston University's head coach David Quinn had some words to say on Chad, his future and his past college season.
"Now that he's comfortable and knows what's expected of him, I don't want to put too much pressure on him but I think he can have a breakout year," Quinn said.  "He's played a lot of hockey, and I really think he has the elite talent, the work ethic continues to improve and his conditioning really improved."
Look to see how that talent and work ethic translates to a scrimmage come Friday morning.