Chicago Blackhawks vs Minnesota Wild: Five Thoughts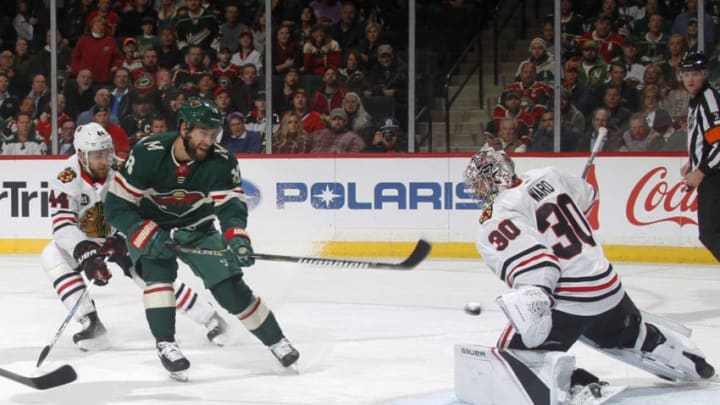 ST. PAUL, MN - OCTOBER 11: Jason Zucker #16 of the Minnesota Wild is stopped by Cam Ward #30 of the Chicago Blackhawks as Jan Rutta #44 of the Chicago Blackhawks defends during a game between the Minnesota Wild and Chicago Black Hawks at Xcel Energy Center on October 11, 2018 in St. Paul, Minnesota. The Wild defeated the Black Hawks 4-3 in overtime.(Photo by Bruce Kluckhohn/NHLI via Getty Images) /
The Chicago Blackhawks lost 4-3 in overtime to the Minnesota Wild last night. Here are Five Thoughts following last nights contest.
No. 2: The Blackhawks defense cannot continue making mistakes like they did last night.
Transitioning to a slightly less upbeat topic, this defense needs to be addressed. Here's what the Chicago Blackhawks put on the ice defensively last night and in practice today:
Keith-Jokiharju
Gustafsson-Seabrook
Manning-Rutta
First, let's talk about the positives we saw in last night's game. It shouldn't take long.
Henri Jokiharju continues to look like the real deal. He's been skating with the power play unit as of late and has looked comfortable doing so. In fact, the only Blackhawks power play goal this season happened against Minnesota because Jokiharju elected to shoot the puck rather than try to force a play like some other Hawks defensemen.
Erik Gustafsson helps Brent Seabrook to be a more effective defenseman, however Seabrook still has no business skating with the Blackhawks penalty kill unit.
Finally, Brandon Manning looked more comfortable against the Wild and actually made a few good plays in his own zone.
Considering that, the negatives severely outweigh the positives. The Chicago Blackhawks have given up 18 goals in four games this season. Only the Ottawa Senators, Vegas Golden Knights, Philadelphia Flyers and Toronto Maple Leafs had more.
The Blackhawks offense has been able to score enough to win games — they are tied for third in the league averaging 4.5 goals a game — but trying to simply outscore opponents isn't a sustainable strategy.
Duncan Keith, supposedly the Blackhawk most reliable defenseman, blew two coverages last night and allowed the Wild to walk into the crease and easily beat Cam Ward. I'm hopeful things will improve with time — Jokiharju will learn from his rookie mistakes, Seabrook may improve in a third pairing, the return of Connor Murphy and Gustav Forsling could help — but regardless the defense we saw last night is not acceptable.
The Blackhawks defense hung Cam Ward out to dry one too many times and it came back to bite them.