Chicago Blackhawks vs Minnesota Wild: Five Thoughts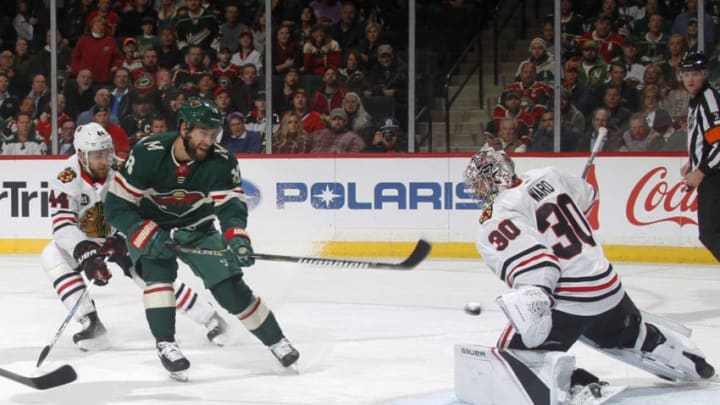 ST. PAUL, MN - OCTOBER 11: Jason Zucker #16 of the Minnesota Wild is stopped by Cam Ward #30 of the Chicago Blackhawks as Jan Rutta #44 of the Chicago Blackhawks defends during a game between the Minnesota Wild and Chicago Black Hawks at Xcel Energy Center on October 11, 2018 in St. Paul, Minnesota. The Wild defeated the Black Hawks 4-3 in overtime.(Photo by Bruce Kluckhohn/NHLI via Getty Images) /
The Chicago Blackhawks lost 4-3 in overtime to the Minnesota Wild last night. Here are Five Thoughts following last nights contest.
No. 3: Cam Ward absolutely stood on his head and deserves more respect.

Speaking of Cam Ward being hung out to dry, let's dive into his game last night.
First and foremost, Ward is the primarily reason that the Blackhawks were in a position to take two points out of Minnesota. In that game, Ward stopped 42 shots on 46 total earning a .913 SV%.
He made some truly outstanding games to keep the Blackhawks in the lead throughout the game.
Take a look at one such example where he made a few big saves late in the game.
Time and time again, the defense broke town but Ward was there.
That is, until he wasn't.
There are only a certain number of times that your goaltender can bail your defense out before giving up a goal. Apparently, the Chicago Blackhawks defensemen found out this number last night.
Here's an example of poor defense leading to a goal.  Four Chicago Blackhawks have their heads turned and eyes on one puck carrier. Jason Zucker is able to easily slip in behind the defense and finds wide open ice inside the hash marks.

Keith makes a half hearted attempt at a poke, but there's nothing him or Ward could do at this point.
Here's another example where Eric Staal and Jan Rutta get tangled up, but Staal is up first and easily cashes in on the cross crease pass.
Again, nothing Ward can do.
Looking at the numbers in a box score, it looks as if Ward has played relatively terrible to start the season. That said, nothing could be more inaccurate.
If Forsberg, Berube, or any of the other goaltenders not named Corey Crawford that the Blackhawks put in net last season were playing goal for them this year, I guarantee you this team is not 2-0-2.
Cam Ward has played well despite the Chicago Blackhawks defense and it's safe to say that Ward, and eventually Crawford, deserve better.
Here's to hoping that they get it.