Chicago Blackhawks vs Minnesota Wild: Five Thoughts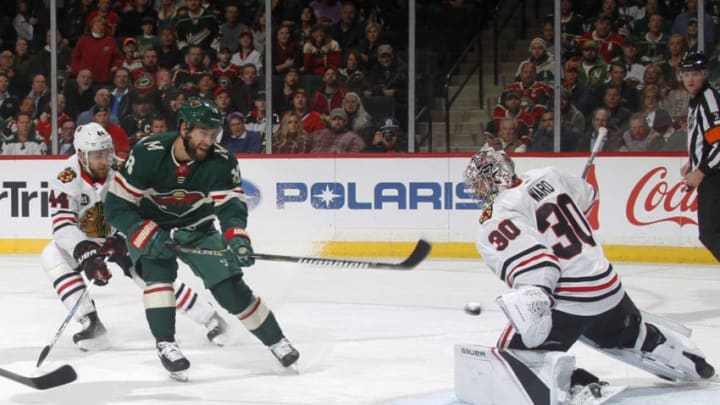 ST. PAUL, MN - OCTOBER 11: Jason Zucker #16 of the Minnesota Wild is stopped by Cam Ward #30 of the Chicago Blackhawks as Jan Rutta #44 of the Chicago Blackhawks defends during a game between the Minnesota Wild and Chicago Black Hawks at Xcel Energy Center on October 11, 2018 in St. Paul, Minnesota. The Wild defeated the Black Hawks 4-3 in overtime.(Photo by Bruce Kluckhohn/NHLI via Getty Images) /
The Chicago Blackhawks lost 4-3 in overtime to the Minnesota Wild last night. Here are Five Thoughts following last nights contest.
No. 4: Coach Q made a poor coaching decision and it cost them the game.
David Kampf carried the puck through the neutral zone, elected not to shoot on the empty net, and eventually drew a penalty after entering the offensive zone.
Yes, a drawn penalty was good, but why not take a shot at an empty net to seal the deal?
Regardless, theChicago Blackhawks found themselves on a power play with 35 seconds left to go in the game, up one goal. All they needed to do was last thirty seconds up a man to win the game.
This is where coach Q made a questionable decision.
Sure, one strategy is to put an offensive unit on the ice and try to hold the puck for 30 seconds. But, why not do your best to play sound defense and win the game?
Additionally, why is Marcus Kruger on this team if he can't play in these situations? The same can be said about a lot of supposedly defensive minded/two-way forwards on this team.
The fact that Jokiharju and Keith were on the ice because, well, the Blackhawks don't have any other defensemen, made sense.
That said, the decision to put Schmaltz-Anisimov-DeBrincat is appalling to me.
DeBrincat and Schmaltz are two of my favorite Blackhawks, but neither of them have any business being on the ice in a defensive situation like that. This move ultimately cost the Hawks as the Wild tied it on this shift and went on to win in overtime.
I typically trust coach Joel Quenneville in almost any situation, but this was a terrible decision and it cost the Blackhawks the game.
No. 5: This team cannot afford to let points slip away.
We've talked about this before, but October is more important for this Chicago Blackhawks team. Here's a quick excerpt from one of our articles on why:
""Elliotte Friedman, a reporter for Sportsnet and an NHL network insider, reported that of the 54 teams who have been 4+ points out of a playoff spot on November 1st since the 2005-06 season (just before the Kane and Toews era), only seven of these teams have made the playoffs.""
Seven teams were able to come back from a four point hole.
In case you need reminding, these Chicago Blackhawks are not the Chicago Blackhawks of years past. Sure, they look a heck of a lot better now than they did last year, but they still have a long way to go.
While it's great to take a point on the road, the Blackhawks deserved to leave Minnesota with two points and lost a point last night more than they stole one.
Want your voice heard? Join the Blackhawk Up team!
And yes, one point is better than none, but Chicago gave one away last night to a division rival who they will be fighting for a playoff spot. These things happen, but the Blackhawks cannot afford to make a habit of this as it will undoubtedly come back to bite them.
Unless, of course, they manage to go 41-0-41.
Like most things, time will tell.