Five Thoughts on the Chicago Blackhawks' Loss to the Vegas Golden Knights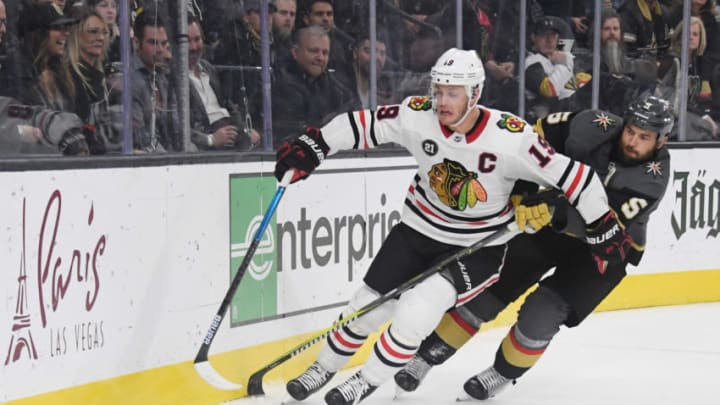 LAS VEGAS, NEVADA - DECEMBER 06: Jonathan Toews #19 of the Chicago Blackhawks and Deryk Engelland #5 of the Vegas Golden Knights chase after the puck in the third period of their game at T-Mobile Arena on December 6, 2018 in Las Vegas, Nevada. The Golden Knights defeated the Blackhawks 4-3. (Photo by Ethan Miller/Getty Images) /
The Chicago Blackhawks dropped their sixth straight game to the Vegas Golden Knights on Thursday, despite playing well. Here are five thoughts on the loss.
LAS VEGAS, NV – DECEMBER 6: Marc-Andre Fleury #29 of the Vegas Golden Knights saves a shot by Jonathan Toews #19 of the Chicago Blackhawks during the second period of their game at T-Mobile Arena on December 6, 2018 in Las Vegas, Nevada. (Photo by David Becker/NHLI via Getty Images) /
The Chicago Blackhawks have terrible luck.
Much like last night and the other games before that, the Blackhawks had awful puck luck in this game. In the first period alone, Patrick Kane missed a wide open net by a mere few inches and then the puck sat on the goal line for a couple of seconds while Jonathan Toews struggled to get to it.
More from Blackhawk Up
Marc-Andre Fleury also played a fantastic game. He robbed Brendan Perlini of a goal in the second period. He stopped Kane yet again in the third period.
And then, when the Blackhawks finally get a lead, two goals in 12 seconds by the Golden Knights secure Chicago's fate. Despite dominating for the majority of the game, the Blackhawks couldn't put enough pucks in the net.
The Blackhawks had all of the chances in this game. There's no doubt this was one of their better games as of late. But they are so incredibly snakebitten it's worrisome.
Consistency is key…or maybe not.
It makes sense for Jeremy Colliton to try and find a lineup that works, but that can be difficult when absolutely nothing is going your way. So while I get the point of switching up the lines and pairings until something sticks, it also frustrates the players. When they don't have consistent linemates, they struggle to get going.
Once Colliton switched the second line back to how it was a few games ago, they had great scoring opportunities. That includes a goal from Dylan Strome. The new top line seemed to be flying as well, but that may just be the great play of Saad and Toews. Then again, it wasn't David Kampf assisting on the captain's goal. It was John Hayden.
So maybe consistency really isn't the key. Maybe the Blackhawks just need to constantly switch the lines around. They're used to it after all.