Five Thoughts on the Chicago Blackhawks' Loss to the Vegas Golden Knights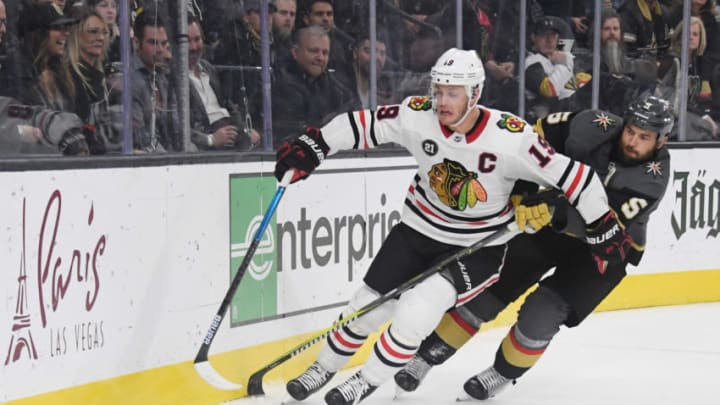 LAS VEGAS, NEVADA - DECEMBER 06: Jonathan Toews #19 of the Chicago Blackhawks and Deryk Engelland #5 of the Vegas Golden Knights chase after the puck in the third period of their game at T-Mobile Arena on December 6, 2018 in Las Vegas, Nevada. The Golden Knights defeated the Blackhawks 4-3. (Photo by Ethan Miller/Getty Images) /
LAS VEGAS, NEVADA – DECEMBER 06: Marc-Andre Fleury #29 of the Vegas Golden Knights blocks a shot by Jonathan Toews #19 of the Chicago Blackhawks as Jonathan Marchessault #81 of the Golden Knights defends in the first period of their game at T-Mobile Arena on December 6, 2018 in Las Vegas, Nevada. (Photo by Ethan Miller/Getty Images) /
Here's Jonny!
In a season full of headlines consisting pessimism, Jonathan Toews' resurgence has been one of the buried ledes. The Captain scored his 13th goal in 30 games, putting him on pace for 35 goals. Last season, he didn't score that many until the halfway mark.
Even if you don't look at his points total, it's easy to tell how much better he's playing this year compared to last season and the one before. His skating has greatly improved and he puts his heart in the game every time he's out on the ice.
While Toews has never been a terrible player, despite what some may say, he looks like his old self again. Tonight was yet another clear example of his impressive play this season.
The not-so-special teams.
As usual, the Blackhawks' power play was absolutely terrible tonight. With four opportunities on the man advantage, they did not score a single goal. They even had 12 scoring chances and 3 high-danger scoring chances in this game. But still, they came up empty.
Although the team kept themselves composed for most of the game and only took two penalties, the Golden Knights still scored on one of their power plays. The Blackhawks' penalty kill is still near the bottom of the league, now an abysmal 73.25 percent.
Special teams are such an important part of the game of hockey and this team can't seem to figure out how to be even remotely good at either of them. They need to make drastic changes on both fronts to improve and even have a chance at winning games.
Dylly Dylly.
It's been six games since the Blackhawks and Arizona made the trade that brought Dylan Strome and Brendan Perlini to Chicago. While it may still be too early to say who "won" the trade, it's obvious Strome has benefitted from the deal.
Strome has four goals and an assist in his last six games. His shooting percentage is pretty high right now, but he's actually shooting the puck. A couple of his goals have been from bad angles, including the one he scored tonight. This may be sad to say, but Strome is leading the Blackhawks by example. More of his teammates need to follow his lead and just shoot as much as possible. Then, hope one of those chances goes in the net.
Additionally, Strome stood out at the dot tonight. He won 58.82 percent of his faceoffs. Game by game, fans can notice his confidence increasing. For a guy who was completely given up on by the team that drafted him, he seems to have found a better home in Chicago. Being on a line with your former teammate and best friend helps with that, too.
Want your voice heard? Join the Blackhawk Up team!
If there's another positive to take away from this game, it's the improved play of the Blackhawks. Even though they lost, they didn't look like a total mess on the ice. That's a major step forward from roughly five games ago. Hopefully, they can continue to this trend of solid play and squeak a win out soon.
The Chicago Blackhawks will head back home and take on former Hawk Andrew Shaw and the Montréal Canadiens on Sunday. Maybe the losing streak will end this time.