The Chicago Blackhawks are at the point of no return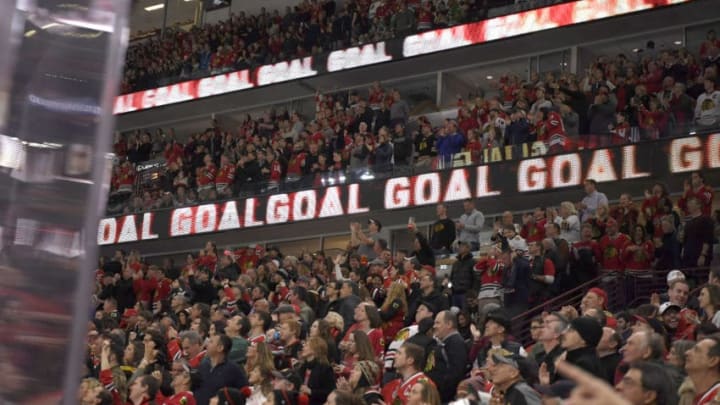 CHICAGO, IL - FEBRUARY 17: Chicago Blackhawks fans celebrate a Chicago Blackhawks goal in the third period of play during a game between the Chicago Blackhawks and the Washington Capitals on February 17, 2018, at the United Center in Chicago, Illinois. (Photo by Robin Alam/Icon Sportswire via Getty Images) /
CHICAGO, IL – DECEMBER 14: Goalie Corey Crawford #50 of the Chicago Blackhawks gets in position to stop the puck in the second period against the Winnipeg Jets at the United Center on December 14, 2018 in Chicago, Illinois. (Photo by Bill Smith/NHLI via Getty Images) /
Everybody wants to rule the world.
So how does Bowman go about rebuilding this team?  He might not even stick around long enough to implement a plan.  But if we play armchair general manager, here are the cold facts about the core that we have to deal with.
So here's the armchair GM plan for points 1-6 above:

Trade Corey Crawford while his value is high and while it doesn't matter who tends the net for the 'Hawks during a rebuild.  Furthermore, the Detroit Redwings template that Scotty Bowman was part of, is that a team can succeed with an average goalie as long as it plays solid defense and possesses the puck.  A Crawford trade could net the 'Hawks a solid young defensive talent.  Their future star defensemen, Adam Boqvist and Nicolas Beaudin, are very young, not very big, and not quite ready for the NHL.  But the 'Hawks do have young goalies ripening in Rockford and an anxious immigrant in Ivan Nalimov waiting to come to the NHL. They are close to being NHL-ready and are all cost-effective options in net.  Crawford's No Movement Clause-NMC might not be a roadblock anymore.
Trade Duncan Keith to a contending team that needs that one additional defender who can play in the top-four.  Trading Keith to a contender would give him another chance at a Cup this season, end his obvious frustration, provide some salary cap relief, and get the 'Hawks another solid young talent to build with.  Keith just might be at the point where he's willing to waive his NMC.
You're stuck with Seabrook because the necessary sweetener to pull off a trade for him would probably be a top prospect.  If you're rebuilding, parting with top prospects is not part of the plan.  Trading him with salary retention would be preferable.  This is another Bowman NMC that makes things even more difficult.  The suddenly surging Edmonton Oilers could be a trade partner to get Seabrook to waive his NMC to get closer to home.  A trade would spare you of having to resort to an embarrassing waiving for unconditional release.  But until then, you have your expensive locker room leader playing on the third defensive pair.
Trade Anisimov to a contending team who needs a big center for depth.  Anisimov is still a useful big center.  If you can't pull off a deal for him, it doesn't kill you to keep him.  But that salary is too high for a third or fourth line center.
Not going to touch these two, unless you're ready to alienate most of your fan base.  They also have the big NMC's. Trading either player would have to be on the magnitude of a Shea Weber for P.K. Subban deal.  And remember, even Wayne Gretzky was traded.  But as a manager of the business, you have to think of both the on ice and off the ice products.   Well, do you feel lucky?
Hold onto Saad, as good power forwards are hard to come by.  And he is playing lately like the player they thought he can be.
In addition to these moves, of course, the launching of Chris Kunitz, Jan Rutta, Brandon Manning, and Brandon Davidson would finish the housecleaning.  And thankfully, Rutta was waived and sent to Rockford.  Now for the other three.