Chicago Blackhawks: Does Alex DeBrincat Still Work on the Third Line?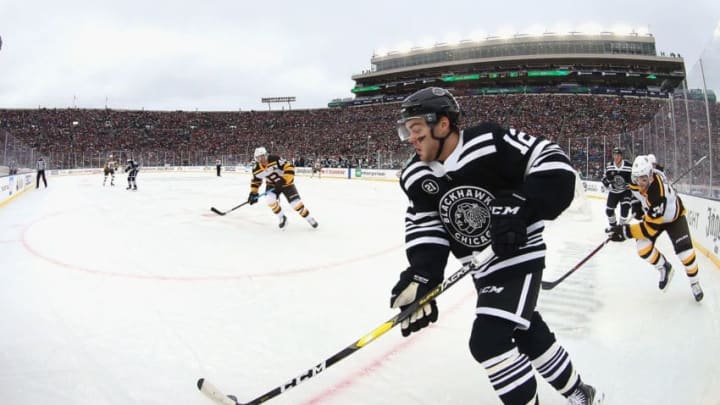 SOUTH BEND, IN - JANUARY 01: Alex DeBrincat #12 of the Chicago Blackhawks controls the puck during the first period of the 2019 Bridgestone NHL Winter Classic game against the Boston Bruins at Notre Dame Stadium on January 1, 2019 in South Bend, Indiana. (Photo by Dave Sandford/NHLI via Getty Images) /
Chicago Blackhawks forward Alex DeBrincat has been a key piece for the Hawks this season. As his strong sophomore season continues, one begins to question where or not his talents are wasted on the third line.
Of the 28 current Chicago Blackhawks skaters to take the ice this season, only four of them have tallied double digits in goals. 13 players have 10+ points, however someone still needs to put the puck in the net.
At the halfway point of the season, only four players are on pace to score 20 goals (though that doesn't mean other players won't have a better second half than first half)(looking at you, Dylan Strome).
Of these four players on a 20+ goal pace, only Alex DeBrincat is out of the top-six. Jonathan Toews (16 G) centers the first line with Brandon Saad (11 G) on his wing. Patrick Kane (team best 22 G) skates on the second line while DeBrincat (18 G) is stuck on the third line.
So, as the season progresses and the 'Hawks' second-best goal scorer is stuck skating third line minutes, a question has began to surface:
Does Alex DeBrincat still work on the third line?
The "DeBrincat belongs in the top-six" argument
More from Blackhawk Up
This guy is a superstar in the making. He's tied with players like Sidney Crosby, Matthew Tkachuk, Mark Stone and Mike Hoffman in goals this season.
He has a history of success playing alongside Dylan Strome in the OHL and has looked great filling the "Artemi Panarin" role with Patrick Kane when given the opportunity.
A bump onto the team's second line could be huge for his performance this season.
The Chicago Blackhawks second line is a defensive liability anyway, so why not go all in and swap DeBrincat for Artem Anisimov on the wing?
In a third line checking role, DeBrincat has thrown his body around and actually looked like he has the potential to be an okay multi-dimensional player.
I'd be willing to wager that his presence on the second line in exchange for Anisimov wouldn't be as much of a risk defensively as you'd think.
Regardless, the Cat is on pace for 35 goals this season. Someone of that skill level on a goal-starved team should have a larger role.
To be fair, coach Jeremy Colliton gives DeBrincat time on the power play and extra shifts late in the game, however his lack of 5-on-5 opportunities makes you wonder how much more productive DeBrincat could be in a larger opportunity with more talented teammates.
The kid just turned 21 years old and his hockey talent is undeniable. Rather than handcuffing him with Dylan Sikura and David Kampf, let him loose with the most dangerous player on the Blackhawks roster.
Strome continues to grow as a playmaker and would benefit greatly from having a threat like DeBrincat line up opposite Kane.
In the Cat's last 20 games, he's been held pointless in only 5 of them.