Chicago Blackhawks Down, Not Out After Loss to Philadelphia Flyers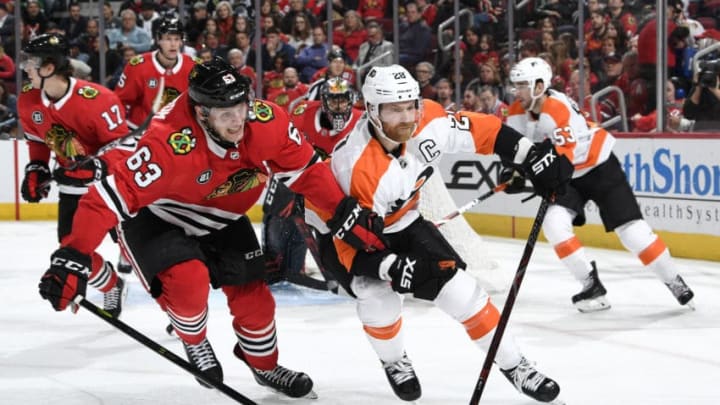 CHICAGO, IL - MARCH 21: Carl Dahlstrom #63 of the Chicago Blackhawks and Claude Giroux #28 of the Philadelphia Flyers skate in the second period at the United Center on March 21, 2019 in Chicago, Illinois. (Photo by Bill Smith/NHLI via Getty Images) /
The Chicago Blackhawks lost a tough one in regulation to the Philadelphia Flyers last night, 3-1. They're down in the playoff race, but not out quite yet. Regardless, this loss is going to hurt.
First and foremost, here's how the Chicago Blackhawks line up against the rest of the division after last night:
WC1 – Stars – 82 pts – 74 GP
WC2 – Avalanche – 78 pts – 74 GP
3 – Coyotes – 78 pts – 74 GP
4 – Wild – 77 pts – 74 GP
5 – Blackhawks – 74 pts – 73 GP
6 – Canucks – 74 pts – 74 GP
The Chicago Blackhawks are four points back from the second-place Colorado Avalanche. They play a home and home with them this weekend followed by a Tuesday night matchup against the Arizona Coyotes.
Clearly, the opportunities are there for the Chicago Blackhawks. Dylan Strome echoed a similar thought to the Chicago Sun-Times last night:
""The points are still there for us," center Dylan Strome said. "We've got four huge points this weekend that are up for grabs. Just gotta take advantage of that.""
Unfortunately, the points were up for grabs last night, too. The Chicago Blackhawks had a game in hand and were given the gift of a home matchup against a spiraling Philadelphia Flyers team. It was a prime opportunity for them to jump two points in the standings heading into a very important weekend.
Then they lost.
Fortunately, the Coyotes didn't win their game which keeps the door open for the Blackhawks. The door is open, but imagine what it could have looked like if the 'Hawks were going into this weekend with an opportunity to take a two-point lead in the playoff race rather than hoping to only tie for the spot.
This season isn't over. The opportunities are still there for this flawed Chicago Blackhawks team. This loss isn't quite a back breaker, but it certainly hurts. A loss in a big non-conference game doesn't end their hopes, but two losses this weekend will.
Want your voice heard? Join the Blackhawk Up team!
Looking at the rest of their schedule, this weekend is do or die for the 'Hawks' playoff hopes. They're down, but not out quite yet. Jonathan Toews knows it, and expressed a similar sentiment to the Sun-Times last night:
""We have to find a way to be better here," Toews said. "Can't allow ourselves to fall short and not get any points anymore.""