Should the Chicago Blackhawks Shut Down Corey Crawford?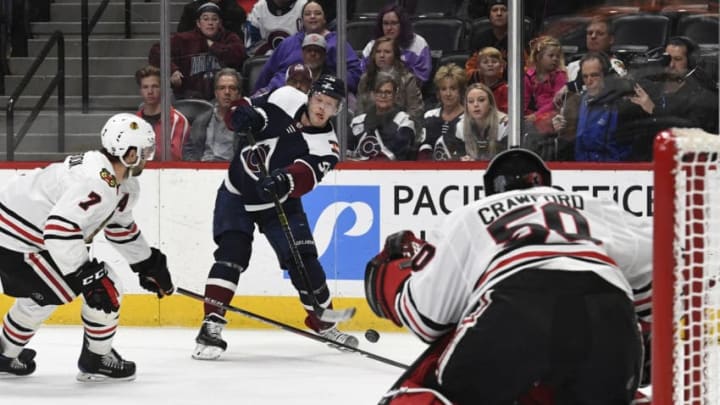 DENVER, CO - MARCH 23: Colorado Avalanche center Carl Soderberg (34) firs a shot towards Chicago Blackhawks goaltender Corey Crawford (50) in the first period at the Pepsi Center March 23, 2019. Chicago Blackhawks defenseman Brent Seabrook (7) defends. (Photo by Andy Cross/MediaNews Group/The Denver Post via Getty Images) /
The Chicago Blackhawks playoff hopes are all but gone after back-to-back devastating losses. With the focus shifting to next season, should Corey Crawford be shut down?
The Chicago Blackhawks lost two games they couldn't afford to lose. Playoff teams don't lose games like that. Evidently, the Chicago Blackhawks have proven that they are not a playoff team this year.
That, we can agree upon.
Something that isn't quite as black and white, though, is what to do with goalie Corey Crawford.
More from Blackhawk Up
Crawford's injury last season forced us to come to terms with the fact that we might never see him play hockey again. After another concussion this season, we were comfortable with his career being all but over.
Crawford had other plans. He fought his way back from both head injuries and once again made himself indispensable to this Blackhawks team.
His numbers this year aren't the best of his career — he's 12-17-3 with a 3.03 GAA and a SV% of .907 — but given his battle with injuries and the state of the current Chicago Blackhawks defense, these aren't bad.
Still, when the 'Hawks were in desperation mode and two points a necessity every single night, Crawford put together a 5-0-1 stretch while posting a 1.74 GAA and .948 SV%.
Not too shabby for a 34-year old.
If you've watched the 'Hawks this year it's clear Crawford can still play, but should he play over these next eight games? Well, click that little "comments" button and you tell me. Until then, here are my thoughts.
It isn't a straight forward "yes" or "no." However, from this point forward Cam Ward would now become my no. 1 guy. After tonight, the Chicago Blackhawks have just one back-to-back left and it's the last two games of the season.
Want your voice heard? Join the Blackhawk Up team!
I'm not sure I support shutting Crawford down for the rest of the regular season — he has missed enough hockey over the last two seasons as it is — but the Blackhawks cannot risk injury or overworking him for no reason. If Ward played five and Crow played three of their final eight I wouldn't be upset. Regardless, his workload must be significantly decreased and that starts today.