Chicago Blackhawks: Erik Gustafsson Could Be a Top Defenseman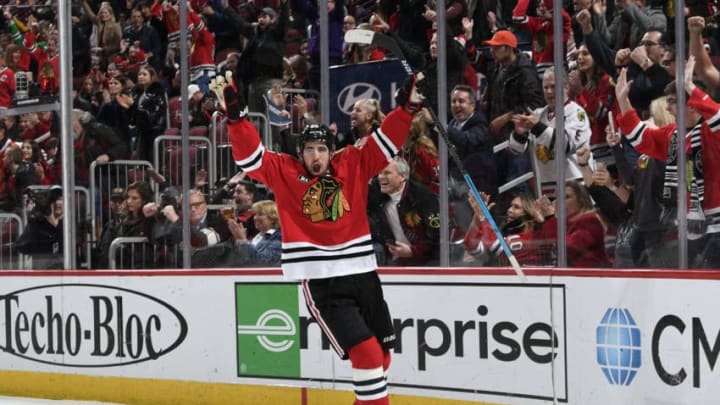 CHICAGO, IL - MARCH 21: Erik Gustafsson #56 of the Chicago Blackhawks reacts after scoring against the Philadelphia Flyers in the first period at the United Center on March 21, 2019 in Chicago, Illinois. (Photo by Bill Smith/NHLI via Getty Images) /
Chicago Blackhawks defenseman Erik Gustafsson is a confusing NHL player. He's a great scoring defenseman but his actual defensive qualities are lackluster, to say the least. However, upon improvements, he could be the Blackhawks top defenseman.
I know what you're going to say, just hold your breath for a minute.
As a defenseman on the Chicago Blackhawks' top pairing, Erik Gustafsson has been criticized and put in the fans' doghouse all season – for good reason. On the first pairing with veteran Duncan Keith, the two have had the most ice-time than any other defensive pairing in recent months.
However, with all of the ice-time, the two have made a handful of grave mistakes throughout the season. Game in and game out, the two have been inconsistent. The more inconsistent of the two is Erik Gustafsson.
Gustafsson is currently tied for the second in goals scored by defenseman with Calgary Flames' Mark Giordano with 16 tallies on the year. He sits just four goals away from Toronto Maple Leafs' Morgan Rielly, who is in first place with 20.
More from Blackhawk Up
Now, his offense is monumental, no doubt. It's been so impressive, many have called to bring Gustafsson to forward rather than defense. Now, with the aforementioned defensive names, there are critical differences to be shared.
Gustafsson isn't highly comparable to those players without regarding offensive production. Giordano has 19 more points in one more game played and Rielly has 15 more points in three more games played.
The biggest difference is how they act defensively. When it comes to plus/minus, Giordano is a +37 and Rielly is a +28. Gustafsson? He's a -12. With 53 points on the year, it's nearly remarkable how he has such a lackluster rating on the ice, especially with an average of 19:14 of ice-time in 72 games played.
However, like the aforementioned defenseman, Gustafsson could be at their tier hopefully sometime soon. Obviously, it comes down to having an overall good team, as the others do. But, the Chicago Blackhawks have been playing pretty well for the better half of this season. If it weren't for November and the later part of December, the 'Hawks could be holding a playoff spot right now and that should reflect in Gustafson's statistics.
Times like these come down to individuals and what they do on the ice game-by-game. Gustafsson is a key individual who needs to be speculated and looked at with a keen eye. He is not playing like an all-star defenseman, yet his offensive numbers show it.
If Gustafsson gets a grab on defensive play, while producing numbers remotely near what he's doing now, he can be a top defenseman in the NHL. Maybe not a Norris Trophy candidate defenseman, but someone who can lock down the blue-line consistently and score goals when the offense can't get it done, which has been a common theme in the past week-or-so.
Imagine if he had the defensive skill set of Connor Murphy, who's a team-leading +15 with twelve points (4G, 8A) on the year, but still scores at a high level. That would be beneficial for the teams' success, without a doubt. The league's top teams thrive off of fast, high scoring defenseman. It's an instant winning recipe.
If he were to drop 15-20 points a year in replace of playing good defense, I'd say that's a fair enough tradeoff. It can happen if proper development takes place this summer. If not, we're going to be left with some broken dreams.
I don't think the "Gus Bus" takes the route to the Boulevard of Broken Dreams, though.