Chicago Blackhawks 2018-19 Season Player Grades: Artem Anisimov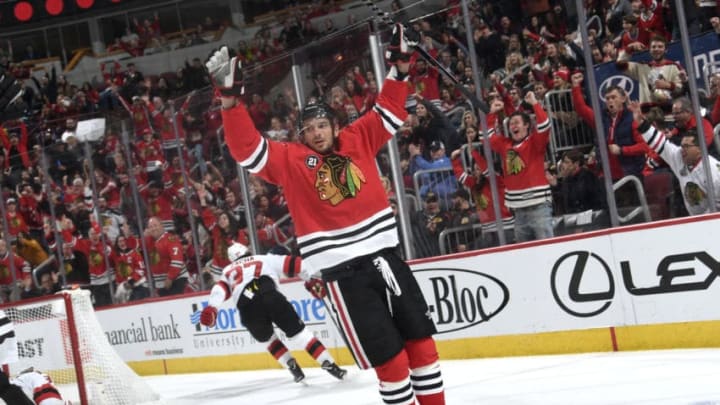 CHICAGO, IL - FEBRUARY 14: Artem Anisimov #15 of the Chicago Blackhawks reacts after scoring against the New Jersey Devils in the third period at the United Center on February 14, 2019 in Chicago, Illinois. (Photo by Bill Smith/NHLI via Getty Images) /
The letter A is all over Chicago Blackhawks forward Artem Anisimov. Arty. Arty Party. Ani. And his final grade for 2018-19?
A.
A lot.
A lot has.
A lot has been said this year about the soon-to-be 31 year old center in Artem Anisimov.  (See what I did there?)  Our Juliana Nikac recently wrote an article exploring possible trade destinations for him at this year's trade deadline.  He's an interesting case of a player falling from grace.  He came to the Chicago Blackhawks via trade from the Columbus Blue Jackets in 2015 for Brandon Saad.  He instantly became the long term answer at the second line center position, as general manager Stan Bowman inked him to a 5-year extension for $4.55 million per year.  When Russian free agent Artemi Panarin also signed with the 'Hawks in 2015, a deadly second line was formed of Anisimov, Panarin, and Patrick Kane.  The PAK line, or AK72 line, became one of the most potent and exciting forward lines in the NHL.
With two dynamic wingers flanking him, Anisimov flourished as the perfect big body center.  His ability to sustain offensive zone time was due to his ability to battle along the boards and retrieve pucks with his long stick.  He wasn't scoring at top line or even second line levels, but he was a very good complimentary center for two superstar forwards.
Things got even better in 2016-17, when the AK72 line continued to gel and excel at driving offensive zone time — but then THE TRADE happened in 2017.  An early exit from the playoffs prompted Stan Bowman to trade Panarin to the Blue Jackets to reacquire Brandon Saad, for the purpose of reigniting Jonathon Toews' career.  Without the talents of Panarin, Anisimov and Kane weren't able to sustain the magic in 2017-18.
Things went sideways for Anisimov, as his scoring and offensive zone time faltered significantly.  And then that brings us to this season.
This past season saw more regression from Anisimov.  His ice time was that of a third or fourth line forward.  His scoring was still at second line levels, but his Corsi and plus/minus levels were dipping, indicating less effectiveness in driving possession.
When we look at his composite stats over his career, we see that he peaked in 2015-16 and 2016-17, then went into decline.  Courtesy of hockeyviz.com:
Does This Mean Anisimov Is Not Good at Hockey Any Longer?
The answer is NO, but he's now a misfit in coach Jeremy Colliton's up-tempo brand of hockey.  The addition of Dylan Strome has pushed Anisimov down in the food chain. Strome is faster and more skilled than Anisimov, and has meshed well with Alex DeBrincat on the second line.  If we look at his With or Without You chart (courtesy of hockeyviz.com), we see that he was mostly flanked by Kane and Saad.
https://hockeyviz.com/fixedImg/hexesEVf/1819/CHI/ /
This trio didn't flourish, however, and Kane was eventually reunited with Toews on the top line.  Anisimov ended up centering Brandon Saad and Dominik Kahun with mixed results.  Anisimov was even moved to left wing on a line centered by David Kampf.  Coach Colliton never really found Anisimov's best linemates and even demoted him to the fourth line.  Anisimov does not have the speed to play on a checking or energy line.  If he's a misfit, his salary of $4.55M is a hefty burden to carry in regard to the salary cap.
Special Teams Specialist
Where Anisimov does provide value is on the penalty kill.  When the game is reduced to a half-court game and speed is not as much of a commodity, his hockey IQ is on full display.  His smart positioning and anticipation allow him to use his long stick to defend, block and intercept pucks.  Here is an example of Anisimov excelling on the PK.
Until Strome came along, Anisimov was also a positive force on the power play.  He had been one of the few players willing to camp out in front of the opposing goalie to provide screens and to deflect shots on goal.  Here he wins a faceoff and deftly deflects in a shot from the point.
Statistically speaking
If we look at CorsicaHockey.com, they have a system of ranking players based upon "stacking" player statistics. Here's how they describe their system:
Compare and rank NHL skaters below using our advanced Player Ratings! We distilled all the statistical information that is available into one single number using machine learning algorithms. The rating captures all contributions made by skaters – offensive, defensive, even strength or special teams!
In Corsica Hockey's ranking system, Anisimov scores a 71.56, placing him 297th out of 450 players evaluated.  His score placed him just below New York Islanders Andrew Ladd, and tied him with teammate Chris Kunitz.  In contrast to these players, Tampa Bay Lightning forward Nikita Kucherov leads all players with an 89.95 rating.  Patrick Kane ranks 11th with a rating of 84.02.  You can see by comparison that Anisimov is just an average forward.
Here are his stats from 2018-19:
Games played  Goals  Assists  Points  +/-   SH%   FO%
.         78                15        22          37       -2   10.6   45.7
Anisimov sported a .474 point per game average, was slightly in the red for plus/minus, and had less than spectacular results at the faceoff dot.  In his reduced role, his scoring numbers aren't that bad.  What does stick out is his faceoff percentage.  Driving possession is intimately tied to winning faceoffs, whether they're in the offensive or defensive zone.  That 45.7% rate placed him 91st in the NHL.  This anemic rate and the subsequent lower possession times contributed to  Anisimov being demoted from the 2nd line.
I believe that Anisimov is still a useful center, just not with this evolving Chicago Blackhawks team under Jeremy Colliton.  He still exhibits playmaking ability and great hockey sense along with a solid work ethic.  The only knocks on him are his face off rate and that he doesn't fully use his size to separate opponents from the puck.  He's never been the physical center he could be with his size at 6'4″ and 198 lbs.
Final Grade
I give Artem Anisimov a final grade of C-.  He's not spectacular, but is not a bum either.  Again, he's an average center who can be useful if flanked by compatible linemates.  He is still effective on the PK, and can be the immovable object in the slot on the PP. Although coach Colliton has expressed a bias toward transition offense, it seems likely that Stan Bowman will need to find a new home for the big center.