Chicago Blackhawks 2018-19 Season Player Grades: Brent Seabrook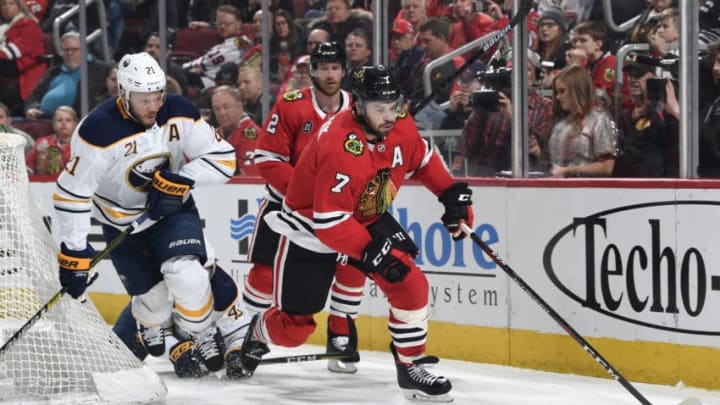 CHICAGO, IL - MARCH 07: Brent Seabrook #7 of the Chicago Blackhawks grabs the puck ahead of Kyle Okposo #21 of the Buffalo Sabres in the second period at the United Center on March 7, 2019 in Chicago, Illinois. (Photo by Bill Smith/NHLI via Getty Images) /
Brent Seabrook has been the subject of heated debates regarding the Chicago Blackhawks' woeful defensive core and salary cap issues.  Is he really as bad at hockey as many claim, or has his pariah status biased judgments about his play? Here are my thoughts on his 2018-19 season and his grade.
The 2018-19 statistics for Chicago Blackhawks's defenseman Brent Seabrook are as follows.  In 78 games played, he averaged 19:06 time on ice.  With that ice time, he tallied 5 goals and 23 assists for 28 points, with 124 hits, 180 blocked shots, a minus-6 goal differential, and 41 penalty minutes.  He also had 72 giveaways with just 19 takeaways.
These numbers are not too shabby for an average NHL defenseman.  However, Seabrook also carries that hefty salary cap hit of $6,875,000 through 2024.  This is what muddies the waters in judging his season.
Let's take a deeper look into his season.  Seabrook spent the majority of his time paired with long-time partner Duncan Keith. In the following chart, you can see that he had a variety of defensive partners after the Keith-Erik Gustafsson pairing became a thing.
https://hockeyviz.com/fixedImg/hexesEVd/1819/CHI/ /
The dilemma in finding a correct partner for Seabrook was really tied to the resistance in accepting the fact that he could no longer play top-four minutes.  He has been lifting a heavy load during his entire career, and it has finally caught up with him.  Take a look at his minutes per game profile for his career, and you'll see that he started to get things right this season once his minutes were reduced.
Go back to the previous chart and you see that he was on the right side of Corsi and plus/minus per 60 minutes at the tail end of the season as his minutes went down.  This is significant in light of the fact that he is rated 301st out of 307 NHL defensive skaters in Even Strength Goals Above Replacement, according to Evolving Hockey.
Here's the Thing
Brent Seabrook is still a good defender.  When his overall work load is reduced, he is very effective.  His 180 blocked shots were the most of his career.  On a team which could not suppress shots as a whole, he was one of the few players ramping up on blocking shots.  He had multiple key blocks while laying out to stymie prime scoring opportunities, one of his trademark plays.
The numbers don't lie.  In Corsica's Star Rating system, Seabrook scores a 1.6119, placing him 75th in the league, just ahead of Detroit's Mike Green and New Jersey's Will Butcher.  That's not a bad place to be, but in not relation to what his contract dictates where he should be.
Final Grade
In a tumultuous season where he was overplayed and overutilized, I give Brent Seabrook a D+.  It was difficult to watch him labor late in games, where his time on ice was wearing him down.  Coach Jeremy Colliton will have to find a way to utilize this veteran defender more effectively next season in a reduced role.  That will depend greatly on what general manager Stan Bowman accomplishes this summer to upgrade the roster.
Brent Seabrook has always been a warrior for this Chicago Blackhawks team.  I would like to think that he can rebound next season after off-season conditioning and with a lighter workload.  Remember when he had a rough go during the 2013 Stanley Cup Playoffs, only to score one of the most important goals in Blackhawks' history?  I'll leave this link to the video right here to honor the player and wish that he can relive this type of moment with a big comeback next season.