Keith and Seabrook Still Valuable to Blackhawks as Play Declines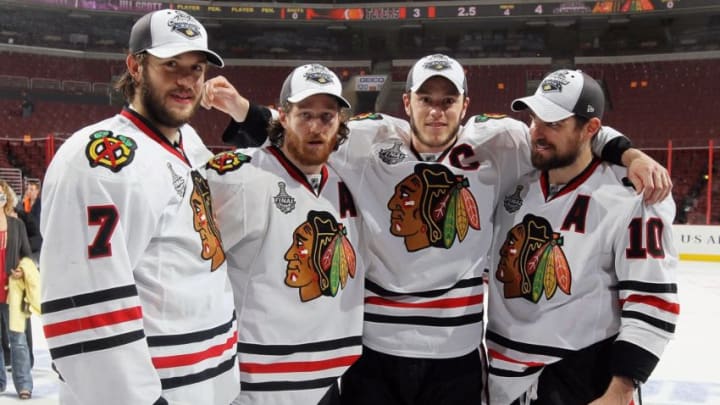 PHILADELPHIA - JUNE 09: (L-R) Brent Seabrook #7, Duncan Keith #2, Jonathan Toews #19 and Patrick Sharp #10 of the Chicago Blackhawks celebrate after the Blackhawks defeated the Philadelphia Flyers 4-3 in overtime to win the Stanley Cup in Game Six of the 2010 NHL Stanley Cup Final at the Wachovia Center on June 9, 2010 in Philadelphia, Pennsylvania. (Photo by Jim McIsaac/Getty Images) /
Duncan Keith and Brent Seabrook will struggle to play up to the monetary value of their contracts from here on out, but that doesn't mean they're past the point of being able to help the Blackhawks' organization.
With six Stanley Cups, two Norris Trophies, a Conn Smythe Trophy and three Olympic gold medals between them, Keith and Seabrook have a wealth of experience and knowledge to pass on to the Blackhawks' plethora of high-end defensive prospects and young defensemen currently on the roster.
Despite his very unfriendly team contract, it's been rumored in the past that Chicago was hesitant to trade Seabrook because the team values the leadership he brings.
If that's true of Seabrook, the team must still value Keith, who has a less burdensome contract than his longtime defensive partner and is seemingly playing at a higher level.
Things may have changed since then; both Keith and Seabrook seem to be deteriorating quickly with every passing season. With that being said, it will be harder than ever to move one of these defensemen from the roster.
At this point, the Blackhawks will likely have to give up assets just to move Seabrook's contract. An example of this that most 'Hawks fans are familiar with was the Bryan Bickell trade that cost them Teuvo Teravainen. Who knows what unloading Seabrook's contract would cost them.
Here's a snippet on each Blackhawks' defenseman, or defensive prospect, that could benefit from the tutelage of Keith and Seabrook.
Nicolas Beaudin
When I watch Nicolas Beaudin defend, I see a lot of Duncan Keith. Similar to Keith, Beaudin isn't going to overpower anyone with his size. Instead, he keeps a close gap and utilizes an active stick to break up plays off the rush.
I refuse to prematurely declare him the next Duncan Keith, but with a similar style, Beaudin could learn a lot from Keith and blossom into a great defenseman.
Ian Mitchell
The way Ian Mitchell quarterbacks power plays reminds me of Keith. He looks comfortable patrolling the blue line and keeping pucks in at the point to extend plays.
As of now, Mitchell also looks like he could be one of the best pure defenders of the Blackhawks defensive prospects.
If Mitchell hadn't committed to playing another year of college hockey, he'd be pushing for a roster spot in the NHL next season. Like Beaudin, his game is fashioned similarly to that of Keith's.
Adam Boqvist
Easily the most dynamic of the Blackhawks' defensive prospects is Adam Boqvist. Though Boqvist measures up similarly to Keith in the height and weight department, their games are very different.
Boqvist is a constant threat to jump up into the rush and generate scoring chances for his team. This is something Keith is hesitant to do because he doesn't want to leave his team vulnerable on defense.
Boqvist is also a very good goal scorer that fires high and accurate shots, whereas Keith almost always shoots low to generate rebounds and shot tips.
All differences aside, if Boqvist wants to experience sustained NHL success, he could learn a thing or two from Keith about defending; there's not many better to learn from about defending in the NHL.
Henri Jokiharju
There's no doubt, Henri Jokiharju has already started to learn from Keith. The two combined to play the top pair defensemen for the Blackhawks last year for a stretch.
Jokiharju is consistently positionally sound in his own end and has similar offensive instincts as Keith does.
He might not score a ton of goals, but he is still smart enough to help generate scoring chances and extend plays for his teammates. Jokiharju looks like he's ready for a full season in the NHL.
Connor Murphy
Like Seabrook, Murphy is a big, physical defenseman that will see success by winning puck battles and overpowering the other team's forwards.
Murphy's ceiling is likely to look a lot like Seabrook in his prime. If one difference stands out between them, it's that Seabrook has a better shot.
Therefore, Murphy's offensive numbers are likely to never match up to Seabrook's since he won't get the power play time that Seabrook once had.
Still, there's a lot of similarities between the two players. Murphy has learned plenty from Seabrook and can still learn more.
Carl Dahlstrom
Dahlstrom also has a comparable height and weight to Seabrook, but his style isn't exactly the same. He can be physical, but defends more on positioning than winning puck battles.
One area that he does remind me of Seabrook is the way he cleans up the crease. There have been countless times where we've seen Seabrook locate a puck during a mad scramble in front of the 'Hawks net, and then, either clear it or stuff it under the goalie to get a whistle.
Dahlstrom has similar tendencies and can learn from one of the best at it.  Dahlstrom isn't as exciting as many of the guys on this list, but he's been effective thus far as a shutdown defenseman.
This is just scratching the surface of what Keith and Seabrook can teach the Blackhawk's young defense. Realistically, who better could they possibly learn from?