Blackhawks Announce 2010 Stanley Cup Anniversary Celebration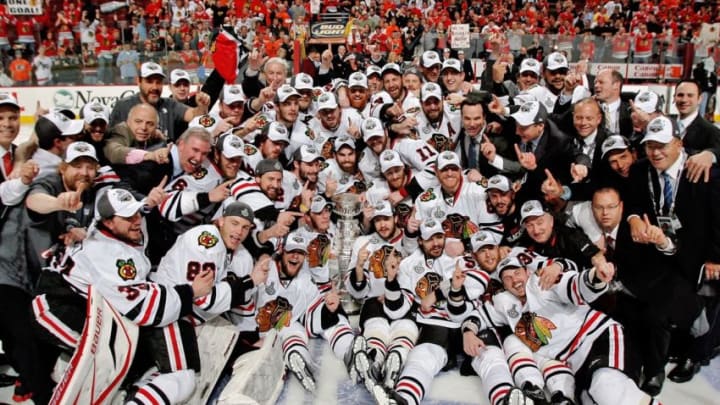 PHILADELPHIA - JUNE 09: Members of the Chicago Blackhawks celebrate winning the Stanley Cup after defeating the Philadelphia Flyers 4-3 in Game Six of the 2010 NHL Stanley Cup Final at the Wachovia Center on June 9, 2010 in Philadelphia, Pennsylvania. (Photo by Len Redkoles/NHLI via Getty Images) /
The Chicago Blackhawks are celebrating the anniversary of the 2010 Stanley Cup Championship this season.
It is hard to believe that some 10 years ago the Chicago Blackhawks had not won a Stanley Cup since 1961.
At that time, the Blackhawks were not one of the best franchises in the NHL. The city has drastically changed in the 10 years after the Blackhawks' first championship, with two more Cups to follow and a lot of great hockey along the way.
This season already had so much to look forward to, but now, adding the 10-year anniversary just makes it better.
Patrick Kane, Duncan Keith, Brent Seabrook, Marian Hossa, and Jonathan Toews will all have bobblehead nights to celebrate the 2010 championship, along with a replica ring.
Patrick Kane's bobblehead was showcased at the Blackhawks' convention on Friday.
The giveaways are not the only part. The season will also feature "One More Shift" pre-game ceremonies to honor some of the players from the 2010 team.
The Blackhawks have done "One More Shift" ceremonies the past few seasons to honor players like Eddie Olczyk and Denis Savard.
The Blackhawks will have a lot more anniversary celebrations in the coming few years, whether it be the 2013 championship or the 2015 championship.
In many fans' eyes, nothing beats the first championship though, even players like Toews and Kane still talk about the great moments from 2010.
The 2010 Stanley Cup Championship is still a big part of the Blackhawks' current roster with players like Toews, Kane, Keith, and Seabrook all still on the team.
On the other hand, Kirby Dach was 9 years old when the 'Hawks captured their first cup in 49 years.
The Blackhawks have added a great deal to their franchise history the last decade, but it all started with the 2010 Stanley Cup Championship.