Editorials
Chicago Blackhawks: 2019 Stanley Cup Playoffs Re-Imagined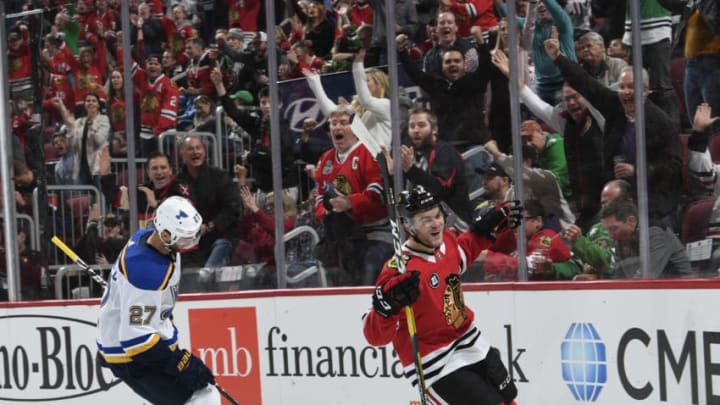 CHICAGO, IL - OCTOBER 13: Alex DeBrincat #12 of the Chicago Blackhawks celebrates his goal against the St. Louis Blues during the third period at the United Center on October 13, 2018 in Chicago, Illinois. (Photo by Bill Smith/NHLI via Getty Images) /
The 2019 Stanley Cup playoffs were the postseason of the underdog. What would the playoffs have looked like if the Chicago Blackhawks made it in?
Even though the Chicago Blackhawks missed the playoffs by 6 points in the 2018-19 season, and the St. Louis Blues ended up winning the Stanley Cup in 7 games against the Boston Bruins, it all could have been a different story if Chicago snuck into the playoffs and faced St. Louis.
St. Louis and Chicago have a historic rivalry with each other and both teams deeply hate each other.Every time they are on the ice, you know it is going to be a slugfest.
Last season, the Chicago Blackhawks played the St. Louis five times like they do every season, but this time around, Chicago destroyed them in the win column.
Blackhawks vs. Blues in 2018-19
The Chicago Blackhawks and St. Louis Blues had very close games during the 2018-19 season, but 4 out of 5 times, Chicago ended up pulling out the victory.
This was an impressive feat considering their goaltending situation, subpar defense, and having to fight through injuries.
The first time the two teams met up was October 6th, 2018. The Chicago Blackhawks went on the road and won the game 5-4 in overtime, with Jonathan Toews (4) getting the game-winner during a fun exciting hockey game.
7 nights later on October 13th, 2018, both teams matched up again with Chicago taking the game 4-3 in overtime. This time, Alex DeBrincat (6) scored the game-winning goal in what was a tough game for both teams.
Towards the end of October (27th), Chicago and St. Louis matched up for the 3rd time of the season. The Blues handed the Blackhawks their 3rd loss of the season with a 7-3 win, ending both teams streak of finishing their previous two matchups ending in overtime.
This would also be the last time Coach Joel Quenneville would play the St. Louis Blues behind the Blackhawks' bench.
On November 14th, 2018, Coach Jeremy Colliton would get his first career win as the Blackhawks' head coach beating the Blues 1-0, with Brent Seabrook (3) scoring in the 2nd period. Seabrook's goal broke the tie and ended up being the only goal of the game.
That is the best team to beat for your first NHL victory as a Blackhawks' head coach.
We would have to wait until April 3rd, 2019 to see these teams match up again, for the last time of the 2018-19 season.
At this point, Chicago was out of the playoffs and St. Louis already had their spot clinched. Chicago would win the game 4-3 in a shootout with Jonathan Toews being the one to win it. Both teams tied in scoring with 17 goals each in their 5 games against each other.