Blackhawks Over Ducks: Patrick Kane Seals 3-2 Win In OT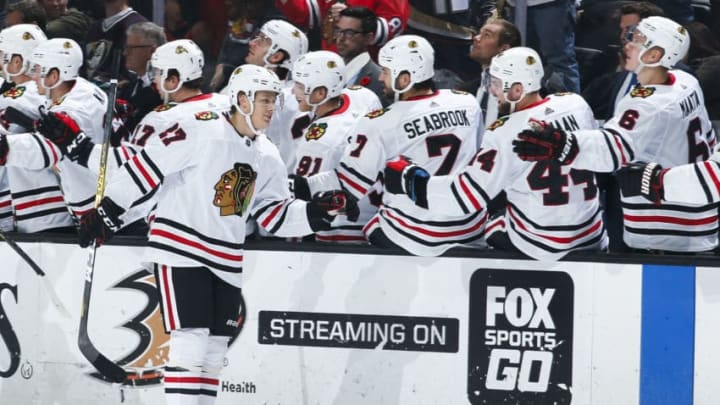 ANAHEIM, CA - NOVEMBER 3: Adam Boqvist #27 of the Chicago Blackhawks celebrates his first-period goal with the bench during the game against the Anaheim Ducks at Honda Center on November 3, 2019 in Anaheim, California. (Photo by Debora Robinson/NHLI via Getty Images) /
The Chicago Blackhawks bounce back from a tough loss to beat the Anaheim Ducks in OT by a score of 3-2.
The Chicago Blackhawks desperately needed a win tonight against the Anaheim Ducks and that is exactly what they got. Tonight's game was night and day, compared to their performance the night before. There were firsts and milestones along the way as well.
After basically throwing the lines and defensive pairings into a blender over the past couple of weeks, it seems as if Jeremy Colliton finally found some combination that worked. It was a total team effort tonight, and the stars were shining for the Blackhawks.
After a tough overtime loss in Los Angeles last night, the Chicago Blackhawks pulled out a gutsy 3-2 victory in overtime over the Anaheim Ducks with a goal from who else, but Patrick Kane. A beautiful spin-o-Rama pass from Jonathan Toews set up the game-winner.
The game ended just 24 seconds into overtime, unlike last night's track meet of an overtime period. This is a big win for a Blackhawks team that really needed a win, and one coming against a top team in Anaheim feels good.
While the game almost got away from the Blackhawks in the third period, after blowing a 2-0 lead, the stellar play of Robin Lehner kept the 'Hawks in it. Lehner improves his GAA to .938, which ranks third overall in the NHL. He also picked up his 100th career NHL win in the process.
The story of this game was the difference in special teams play, as the Blackhawks had one goal on the powerplay. Adam Boqvist's first NHL goal on a wicked wrister came shortly after the Hawks' first power play expired.
Another notable goal came on a 5-on-3 off the stick of Alex DeBrincat. The Blackhawks ended the game 1 for 5 (20%), which doesn't look good, but they had consistent chances on each man-advantage opportunity. The penalty kill also took strides forward tonight, as they went 3 for 4, with the Ducks' only goal coming off the stick of Nick Ritchie after a beautiful passing play.
The play of this game was pretty even, as shots ended 38-37 in favor of the Ducks. Despite this, the Chicago Blackhawks were the better team through the first two periods, with brilliant play from Robin Lehner as he has done all season. Ryan Miller kept the Ducks in the game with some big saves, especially when the 'Hawks had the man advantage. The other goal in this game for Anaheim came off a redirect from Sam Steel.
The changes in the lineup were more evident tonight, as the players scratched last night in LA showed why they should be in the lineup. Not having a spark plug like Drake Caggiula proved to be a mistake last night, as well as Slater Koekkoek, who has yet to find his best form. Erik Gustafsson did not make any glaring errors tonight, which is a good game by his standards these days.
The other big lineup change was that Jeremy Colliton put Patrick Kane back with Alex DeBrincat and Dylan Strome, and they did not disappoint. They created great chances all night and should be a consistent line going forward. Another line that ended up being really solid was Jonathan Toews centering Brandon Saad and Alexander Nylander.
The game almost got away from the 'Hawks due to a Jonathan Toews mental breakdown during the third period, reminiscent of Game 4 versus the Detroit Red Wings way back in 2013. Toews looked better in this game offensively, but regardless of tonight's result, you can see his frustration out of the gate.
More from Blackhawk Up
Andrew Shaw is another player who is intriguing to me. After the home opener against San Jose, he has been almost nonexistent, except when he is in the penalty box.
Shaw has yet to find the right balance in his game to be the most effective, as 'Hawks fans were hoping for a season like his last in Montreal, in which he posted career highs in goals and points. I think he could be a potential "scratch to wake him up" player in the next game.
Young guns, Adam Boqvist and Kirby Dach, both looked good tonight. However, it's clear that Boqvist has a longer leash than Dach. While Dach played more tonight than he did last night, I still think his play so far has earned him more ice time.
Adam Boqvist looks NHL ready. He has been really solid over his first 2 NHL contest, including a 1 ± rating with 3 SOG tonight. Alexander Nylander also looked really good tonight, after his blunder last night in overtime, where he flopped a pass on a 2-on-0 scoring opportunity.
The bottom line tonight is that the top players for the Blackhawks stepped up in a game where they desperately needed a win. After last night's disappointing loss in Los Angeles, it feels good to leave Anaheim with a win against a superior team. Robin Lehner also really deserved a win tonight and the heroics of Toews and Kane got it for him. The Chicago Blackhawks will finish their 4-game road trip Tuesday night when they take on the struggling San Jose Sharks at the SAP Center.