Chicago Blackhawks: New Core Needs to Takeover Now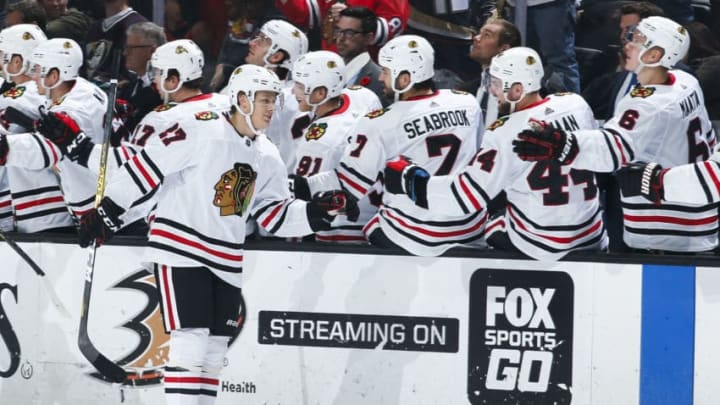 ANAHEIM, CA - NOVEMBER 3: Adam Boqvist #27 of the Chicago Blackhawks celebrates his first-period goal with the bench during the game against the Anaheim Ducks at Honda Center on November 3, 2019 in Anaheim, California. (Photo by Debora Robinson/NHLI via Getty Images) /
The Chicago Blackhawks have a new core group and it's time for them to takeover.
This team is no longer the "Toews and Kane" Chicago Blackhawks. This team belongs to a new group of players.
Patrick Kane and Jonathan Toews are celebrating the 10 year anniversary of their first Stanley Cup Championship. Duncan Keith and Brent Seabrook are on the back-end of great careers, with some major step backs prevalent in their play.
Although all these players are older now, and towards the back-end of their careers, they are being relied on way too much on the ice. It is time for a new group of players to step up and rise to the occasion.
More from Blackhawk Up
Kirby Dach looks like a real NHL threat with the Blackhawks. The team already decided Dach will stay in the NHL for the entire 2019-20 season. Adam Boqvist is also now with the team. We already talked about what he can potentially do with the Blackhawks this year. 
Re-calling Boqvist means something to the Blackhawks. Most importantly, it brings more young blood into the locker room. Years from now, this could be just the beginning of what this new Blackhawks' core can bring to the city, but who makes up that core?
The Future Is Here
Alex DeBrincat, Dylan Strome, Kirby Dach, Adam Boqvist, and Alex Nylander are all 22 years old or younger. The youth movement in Chicago is no longer a movement, it is the team.
The Chicago Blackhawks need these young players to step up to the plate and lead the team the same way Jonathan Toews and Patrick Kane did for years before them. Years from now, fans will be talking about players like Dach, DeBrincat, and Strome the same way Blackhawks' fans talked about Toews, Kane, and Patrick Sharp. Instead of having Duncan Keith and Brent Seabrook, Blackhawks fans will have Adam Boqvist and Ian Mitchell.
The Chicago Blackhawks' future is here, and it is time for them to step up. Adam Boqvist stepped up to the plate last night against the Anaheim Ducks, when he scored a big goal in the first period.
This was Boqvist's first NHL goal, something Kirby Dach did a little more than a week ago.
It is great seeing these young kids score goals. It is important that they continue to do it. Alex DeBrincat only had 7 points through the first 12 games this season. He needs to step up more and the same with his friend, Dylan Strome. Strome found himself on the fourth line this season.
Now, I do not agree with that move by Jeremy Colliton, but it does not change the fact that Strome needs to be better. In fact, the entire Blackhawks' young core needs to rise to the occasion this year.
Last season, Toews and Kane had career years and we still missed the playoffs. This season has not been the best for Toews and Kane. Toews had a handful of penalties last night against the Ducks and Kane only has 3 goals so far this season.
Chicago needs their younger players to start being the stars of this team. Hopefully, they can get it done. Otherwise, we might be adding another top 3 draft pick next June.