Chicago Blackhawks Should Stand Pat Come Trade Deadline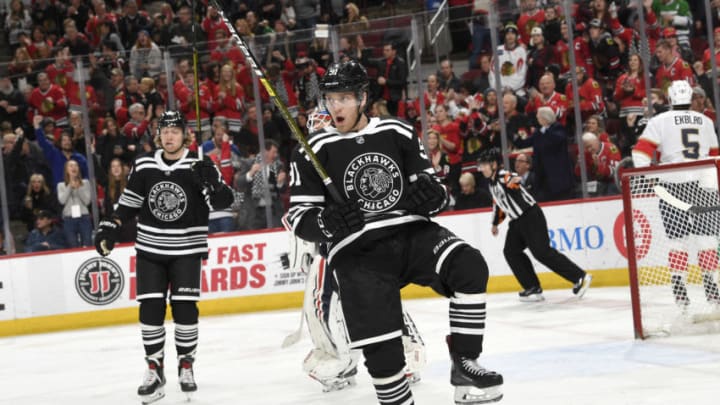 CHICAGO, IL - JANUARY 21: Drake Caggiula #91 of the Chicago Blackhawks reacts after scoring against the Florida Panthers in the third period at the United Center on January 21, 2020 in Chicago, Illinois. (Photo by Bill Smith/NHLI via Getty Images) /
The Chicago Blackhawks are surging toward the playoffs but with not a ton of trade chips or sought after pieces should they just stand pat come to the trade deadline on February 24th.
Here we stand at the NHL All-Star break, the Chicago Blackhawks find themselves sitting three points out of a playoff position. They're coming off of a five-game winning streak, broken by the Joel Quenneville's Florida Panthers. With the competitiveness of both the Eastern and Western Conferences, at this point, it is difficult to put your finger on who are going to be buyers and who are going to be sellers at the trade deadline.
Currently, the Blackhawks would firmly be in the buyer's camp considering their playoff surge and considering their difficulty with injuries all season. The Blackhawks could use a bit more depth throughout the lineup but also don't have a ton of valuable pieces (that they are willing to part with) to acquire a big piece for their lineup.
Looking at Frank Seravalli's latest trade bait board you begin to see the thinness of the trade market and how seller prices might be sky-high for pieces that in prior years would probably fetch far less. This season also appears to be a year in which pieces available are going to be pure rentals, Chris Kreider, Jean-Gabriel Pageau, Tyler Toffoli, and Ilya Kovalchuk are the headliners and all would be pieces that could have price tags the Blackhawks might not want to match.
Just two weeks ago general manager Stan Bowman stood in front of the media to discuss the Blackhawks season at the halfway point. During the scrum, Bowman addressed the idea of adding another piece or pieces at the deadline and did not sound sure that they would be in the business of adding and also stated that nothing is imminent or close.
You have to think that over the past two weeks talks have started to heat up with the Blackhawks surge in the standings along with other teams starting to fall by the wayside. However, at this point where we stand today, I am almost hoping if the Blackhawks make a trade it is to weaponize their free cap space by taking on a bad contract from another contender to acquire more assets.
I, of course, want to see the Blackhawks make it into the playoffs and make some noise but I also this is a team that is still looking to build itself for the future and if they can use this excess cap space they are currently carrying to help acquire more assets I am all for it. I would also prefer them not to dip into their limited prospect pool or draft picks to acquire something for the short-term but from the sounds of Bowman just a couple of weeks ago I think that might not be in the discussion at the moment.
With the trade deadline creeping closer and closer, I'm sure we will see the Blackhawks brought up more. If the Blackhawks want to continue on their path to future growth, they might want to sit this trade deadline out.