Chicago Blackhawks: Recent Road Trip Solved Nothing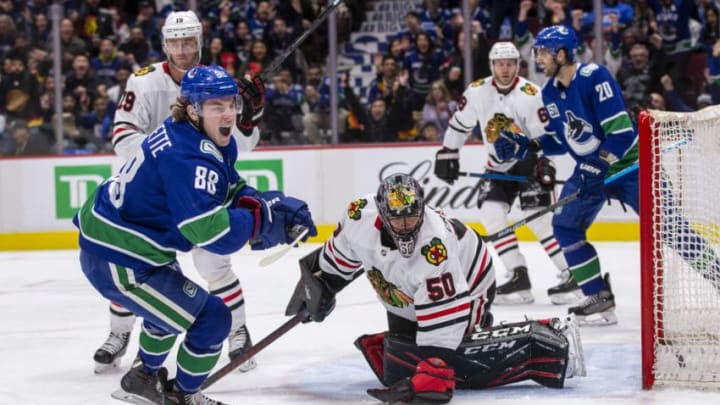 VANCOUVER, BC - FEBRUARY 20: Adam Gaudette #88 of the Vancouver Canucks scores against goaltender Corey Crawford #50 of the Chicago Blackhawks during the second period at Rogers Arena on February 12, 2020 in Vancouver, Canada. (Photo by Ben Nelms/Getty Images) /
After a poor five-game road trip, the Chicago Blackhawks find themselves luckily six points out of the playoffs. There was a big opportunity missed.
I'm shocked by how bad the Chicago Blackhawks have played as of late. Right as we say, "the Blackhawks are back", they lose seven of their next nine games. If anything helps, a couple of those losses were in overtime, so that helps.
What hurts this time around was the losses to the teams that mattered. The Blackhawks played against the Jets twice, who are ahead of them in the wildcard race. Those two losses are nailing the coffin on the Blackhawks season.
Other losses included the Oilers and Canucks. In every game besides the Canucks, the Blackhawks had a lead. The word "finish" was never used in their locker room.
It's not something that the team is taking lightly though. There is still belief in their locker room.
There's still belief around Blackhawk Up too. The Blackhawks are just six points out. We're also realistic too. If the Blackhawks keep playing the way they have, they'll make a bid for the first pick in the NHL draft.
Just like last season, the Blackhawks got hot and then fizzled off. Fans were screaming for another cup and then were upset that the Blackhawks didn't tank for Jack Hughes. This time around, the Blackhawks are the sixth-worst team in the NHL. They can win a few more games here and still make a bid for the first pick.
All-in-all, there's still hope. A lot can happen in 20-plus games for a team. How likely is it? 13.2% according to CBS Sports. Before the road trip, they were over 50%.
It's up to you guys to decided if you still have hope in this team. They did just miss a big opportunity on the road but it's not over yet.