Will Ilya Sorokin be traded to the Chicago Blackhawks?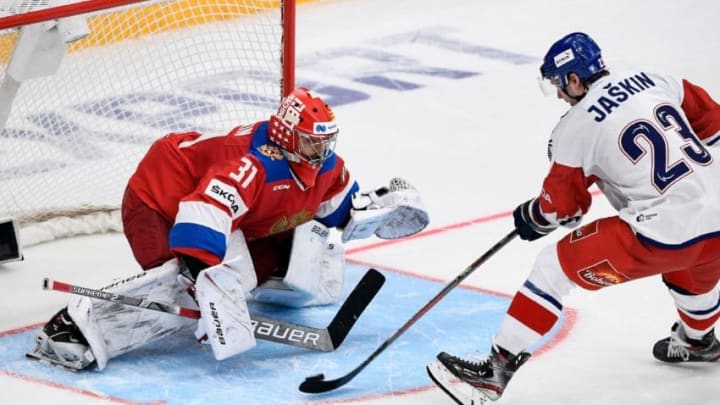 Russia's goalkeeper Ilya Sorokin (L) makes a decisive save as Czech Republic's forward Dmitrij Jaskin fails to score during the Channel One Cup of the Euro Hockey Tour ice hockey match between Russia and Czech Republic at CSKA Arena in Moscow on December 14, 2019. (Photo by Alexander NEMENOV / AFP) (Photo by ALEXANDER NEMENOV/AFP via Getty Images) /
After rumors of Ilya Sorokin coming to the Chicago Blackhawks being denied, is there still of the chance of Sorokin coming to Chicago?
Yesterday, there was a rumor of Ilya Sorokin being traded to the Chicago Blackhawks. After about 15 minutes of the rumor of the Blackhawks getting the rights to Sorokin, it was denied.
The 24-year-old Sorokin has won a Gold Medal, Silver Medal, and a Bronze Medal. He's also won countless awards in the KHL. Those awards being an All-Star goalie, KHL playoff MVP, KHL champion, and second-most shutouts during the KHL playoffs (5). Also, he has the record for second-most shutouts during an entire season (11).
For the Blackhawks' to get Sorokin could be franchise-changing. The Russian goalie wants to play in the NHL next season. The chances of that being for the Blackhawks seems to be more unlikely as we speak.
The rumors came from his teammates and others in Moscow, Russia. There hasn't been anything said by the Blackhawks on their end besides this tweet by goalie Robin Lehner.
https://twitter.com/RobinLehner/status/1230953169674555392
From there, we have nothing. There have been others saying the deal was talked about but never finalized. The tweet by Darren Dreger sent the media into waves of confusion. Every major hockey news source picked the story up.
So, if the franchise-changing goalie Sorokin is traded to the Blackhawks, we'll have the entire story up on our website. A Lehner, Sorokin goalie-tandem would be amazing.
After the amazing game from Corey Crawford last night, it makes you wonder if he's worth another contract. I'd say so.
If the Blackhawks can keep both Lehner and Crawford, things will be fine for 2020-21. They do need a future plan, which is where Sorokin comes in. Hopefully, Stan Bowman has something up his sleeve to steal the Russian-Netminder.