Chicago Blackhawks: Corey Crawford is not getting the respect he earned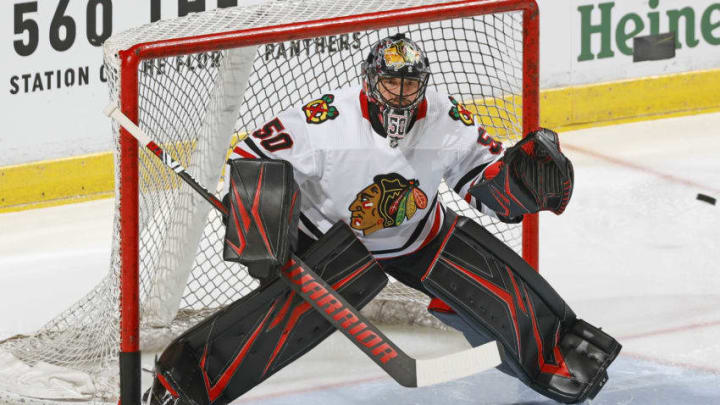 Corey Crawford #50, Chicago Blackhawks (Photo by Joel Auerbach/Getty Images) /
Corey Crawford has earned more respect than he has been getting from Chicago Blackhawks fans. Crawford has been the backbone of this team for years, and I think we all need a little refresher.
Robin Lehner was a great goalie for the Blackhawks, do not get me wrong. However, in the past few days, we have already mentioned how things just were not going to work out between us after this season, and that is ok because Crawford has always been our guy.
Corey Crawford is going to be in the Blackhawks crease until he decides to hang up his skates and call it a career. You can not blame him for a few concussions in the past few seasons. While that did keep him out for an extended period of time, this season has shown that he is still capable of playing at that high level. If it was not for that concussion the Blackhawks would have possibly made the playoffs a few seasons ago.
Crawford helped make a good team great throughout all of his time in Chicago. He was the backbone for two Stanley Cup championships and was snubbed from a Conn Smythe in 2013. Back then it was annoying hearing people criticize Crawford and say he only got those championships because of the team he has in front of him. Now it is even more annoying.
More from Blackhawk Up
Crawford has proven himself time and time again for the Chicago Blackhawks. He is not going to demand their entire cap space to stick around for another season. He is a valued member of this core and was the reason they snuck away with a win against the Florida Panthers last night.
I know not everyone is going to agree with me. A lot of people liked Lehner's personality and playing style. I hope he has a long and successful career, wherever that may be. I just know that when Crawford is in the net for the Blackhawks fans are quick to forget a great save he makes and hold onto a bad goal he gives up on occasion.
I never am going to be able to convince everyone that Crawford is the right guy in net for the Blackhawks in the next few years, but the contract he gets this summer might just do that! Crawford is going to retire a Blackhawks. Just like Jonathan Toews, Patrick Kane, and Duncan Keith. Those guys have earned the right to hang up their skates in Chicago at the end of their careers.