Blackhawks: It's time to part with Colliton and Bowman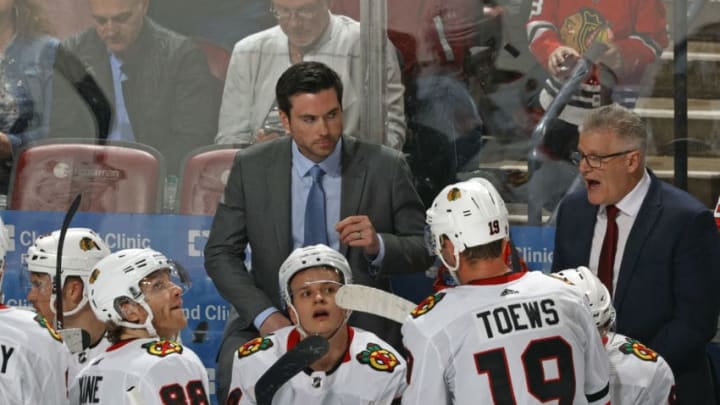 Chicago Blackhawks, Jeremy Colliton, Stan Bowman, (Photo by Joel Auerbach/Getty Images) /
After giving Jeremy Colliton a full season with the Chicago Blackhawks, it's fair to assume he isn't the long-term answer for the Blackhawks. It's not just him though, Stan Bowman isn't the answer long-term either.
Look, the Chicago Blackhawks had a lot of success under Stan Bowman and Joel Quenneville. It just hasn't translated to success under Jeremy Colliton. I've noticed a few things, the Blackhawks never look out of games. They match good teams well. They just don't add to the scoreboard. I have a feeling why.
The feeling I have is that some of the top players tune out what Colliton is saying. As a younger coach, there is a disconnect between Colliton and older players. He might be good with the rookies and second and third-year players, but that's it. He doesn't connect with Jonathan Toews and Patrick Kane the way a coach should.
(24:10 – 31:50, Blackhawks' talk – Will the Hawks keep head coach Jeremy Colliton and GM Stan Bowman)
Add Bowman to that mix too. He doesn't connect with Kane or Toews. Kane and Toews were both annoyed after the trade deadline. That begs the question, should the next General Manager and Coach be more involved with Kane and Toews? I think so.
Let me explain – both Kane and Toews are being paid $10,500,000 AAV per season. Kane and Toews are two of the top leaders on this team, while still being in their prime. They've brought a lot of success to the Blackhawks. They should be involved in the "business" conversations the same way Peyton Manning was with the Colts.
Kane and Toews are the Blackhawks' Manning. They should be involved with the next coaching hire and possibly the next General Manager.
With the disconnect between the players and Colliton, it's time to part with him. With the disconnect between everyone and both Bowman's, Scotty included, it's time to part ways with both of them.
I thank the front office for making my childhood so great. I un-thank you for ruining my adulthood. I'm not saying they're Cup contenders, but they should do better than they are. This might be the third season in a row where they end up with a top 10 draft pick. That doesn't scream success.
It's time for a change. Do the right thing for the city of Chicago, clean the house. It's getting dirty.