Hawks Rewind: Blackhawks vs Predators Game 5 Preview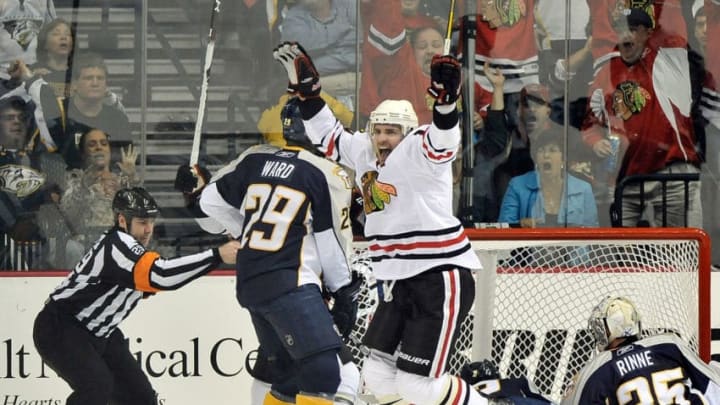 Patrick Sharp, Chicago Blackhawks (Photo by Grant Halverson/Getty Images) /
Tonight, NBCS Chicago continues its replay of former Chicago Blackhawks' games from the 2010 Stanley Cup run. At 7 PM CST, they will show Game 5 of the Quarterfinals against the Predators.
Tonight, the Chicago Blackhawks "HawksRewind" series continues when NBC Sports Chicago plays Game 5 of the Western Conference Quarterfinals. After another shutout by rookie goalie Antti Niemi, what can the team expect in Game 5?
The Blackhawks winning Game 4 of this series has kept their 2010 Stanley Cup hopes alive. With the series tied 2-2, it'll take another big showing from Niemi. Niemi has done wonders for this team so far. He has taken matters into his own hands with two shutout victories.
On Thursday, Patrick Sharp scored twice to help cement the Blackhawks' win. The young stars Patrick Kane and Jonathan Toews both ended up on the stat sheet, with Toews scoring the second goal of the game. Now, for Game 5, Chicago needs another impressive game out of Sharp, Kane, and Toews.
Marian Hossa impressed me with his play during Game 4. He muscled the puck to the net to assist on Toews' first goal of the 2010 playoffs. Chicago was getting deep and was scoring the tight, playoff-type of goals. They've really done well with much-added pressure this series.
For tonight's game, I expect the same style of play. Last season during the playoffs, this team did very well in Games 4-6. To keep their success up, they have to stay out of the penalty box. So far this series, the Blackhawks have killed off every penalty, but that won't last forever.
Neither team has won back-to-back games this series, will the Blackhawks be the first to do it?