Blackhawks: How important was Marian Hossa in 2010?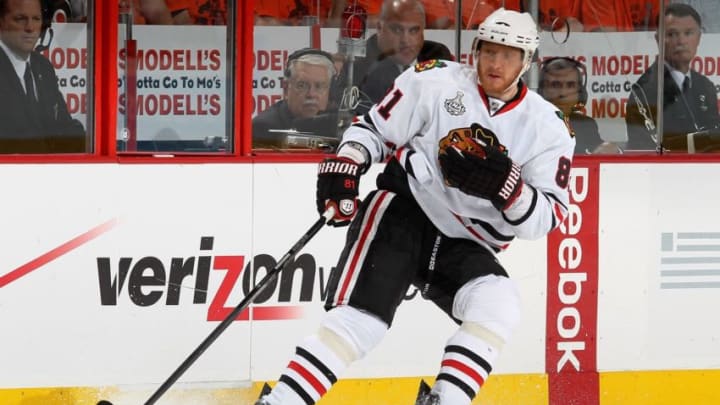 Marian Hossa, Chicago Blackhawks (Photo by Jim McIsaac/Getty Images) /
As we relive the 2010 Chicago Blackhawks on NBC Sports Chicago, the question is brought up again, how good was Marian Hossa in 2010?
Marian Hossa signed with the Chicago Blackhawks in the summer of 2009 after losing back-to-back Stanley Cups with two different teams. The joke around the media was how Hossa was bad luck and the Blackhawks wouldn't win the Stanley Cup with him. It turns out, they'd win three, with Hossa having a big impact on the team.
Hossa only played in 57 of the Blackhawks 82 games in the 2009-10 season. In his 57 games, he scored 24 goals and had 27 assists for 51 points.
Hossa's first playoff goal in Chicago was in Game 5 against the Predators. He scored after committing a five-minute penalty, when down 4-3 late in the third period. After Patrick Kane tied the goal with less than 20 seconds left in the game, Hossa came out of the box in overtime to win the game.
Hossa played in 22 playoff games, where he scored three goals and had 12 assists for 15 points.
He had seven of those 15 points in the first series. In the next 16 games, Hossa scored two times and had six assists for eight points.
Not only did Hossa help the team on the stat sheet, but he was also a physical player, who was hard to knock off the puck. If the Blackhawks did sign Hossa, they wouldn't have been as successful as they were.
Hossa knew what it was like to lose after losing back-to-back Stanley Cups. When he signed with Chicago, he had nothing to lose and everything to gain. It made him a dangerous player on the ice.
The veteran leadership he brought to the Blackhawks improved many of the young players. Hossa became a Hall of Famer the second he lifted his first Stanley Cup.
He turned the Blackhawks from hopefuls to winners. It was one of the most important signings in team history.