Blackhawks April Fools: 3 Not So Iconic Moments From 2020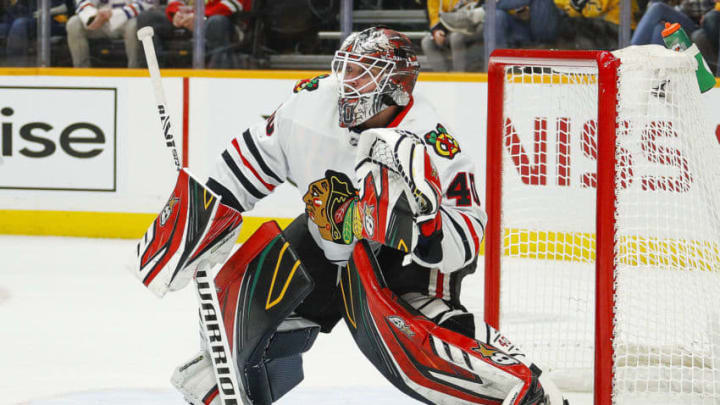 Robin Lehner, Chicago Blackhawks (Photo by Frederick Breedon/Getty Images) /
Robin Lehner, Chicago Blackhawks (Photo by Frederick Breedon/Getty Images) /
Every season every team makes a boneheaded decision that makes them look foolish in the short-term. Here are three of those not-so-ionic moments from the 2020 Chicago Blackhawks.
Robin Lehner
Where do I start with the Chicago Blackhawks and Robin Lehner? Do I start with Stan Bowman keeping $2,500,000 worth of his salary when trading him to Vegas? When keeping that money, the Blackhawks only got a second-round pick in return.
Let me break down the trade for those who don't know. The Lehner trade was a three-team trade involving the Golden Knights and the Maple Leafs. The Maple Leafs received a fifth-round pick for taking $1,100,000 of Lehner's salary.
The Blackhawks received Malcolm Subban and a second-round draft choice. It's complicated. The Maple Leafs and the Blackhawks were duped by Vegas. They should have at least received a first-round draft choice.
The Golden Knights ended up with Lehner of course, alongside receiving the rights to Martins Dzierkals. If there were any winners on draft day, the Golden Knights are at the top of that list.
This was another boneheaded decision by Bowman and his staff. Lehner was willing to take a pay cut to stay in Chicago for a few more seasons. I truly believe they were a contender with Lehner in the lineup.
I love loyalty to Corey Crawford but there was no reason to bring in Lehner if he was never going to be a serious starter. If a team has two goalies who are neck and neck in competition but they have to get rid of one of them, they keep the younger goalie. Bowman must have missed that in his how-to-GM manual.
We'll have to wait and see when the next goalie pops up. They're like quarterbacks in football, if they have a good one, they keep him. The Blackhawks don't understand that logic.