Blackhawks April Fools: 3 Not So Iconic Moments From 2020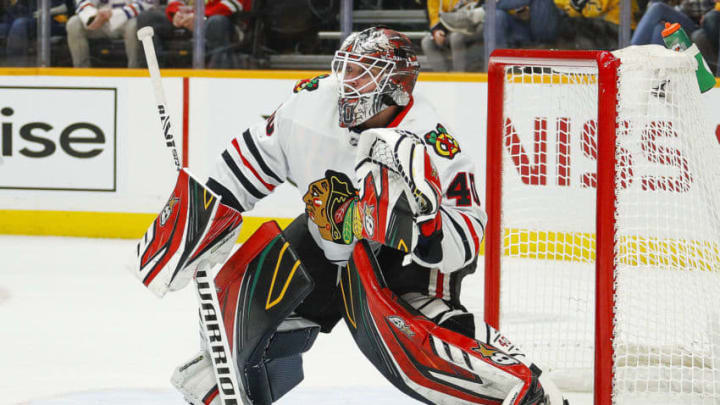 Robin Lehner, Chicago Blackhawks (Photo by Frederick Breedon/Getty Images) /
Brendan Perlini, Chicago Blackhawks (Photo by Jonathan Daniel/Getty Images) /
Brendan Perlini
I don't know what the heck happened with Brendan Perlini. The Blackhawks had him and then they didn't. Just, what?
Okay, I know he wasn't an elite player or anything, but he had some potential. He was an RFA over the summer and was never picked up by anyone, keeping him on the Blackhawks roster for the 2020 season.
Perlini didn't want to stay in Chicago, so he requested a trade. He ended up with the Red Wings. Here's a positive, the Blackhawks received 19-year old defenseman, Alec Regula. Here's a negative, they missed out on a 23-year old forward, who could have been a difference-maker.
In 47 games with the Blackhawks, he racked up 15 points, including one hat trick. I was a fan of Perlini, which was well documented over his time in Chicago. He was 6-foot-4 and fit well with the team.
There were rumors of Perlini wanting out over the summer because the Blackhawks put him on the back-burner during free agency. The potential was there for Perlini but being a healthy scratch for nine of the first 10 games before being traded doesn't keep many players happy.
We'll never know now what the full reasoning is. It's been painted by the Chicago media that he never wanted to be here, while it's been painted by others that he did, he just never was given the chance this season.
Hopefully, Regula turns out to be a star and a steal for the Blackhawks. When he's done with his time in the OHL, expect to see him make a debut with the IceHogs before seeing him in the NHL with the Blackhawks. That's their pattern with defensemen as of late. Even if it's just for a few weeks.