Blackhawks: Save money and trade Calvin de Haan this summer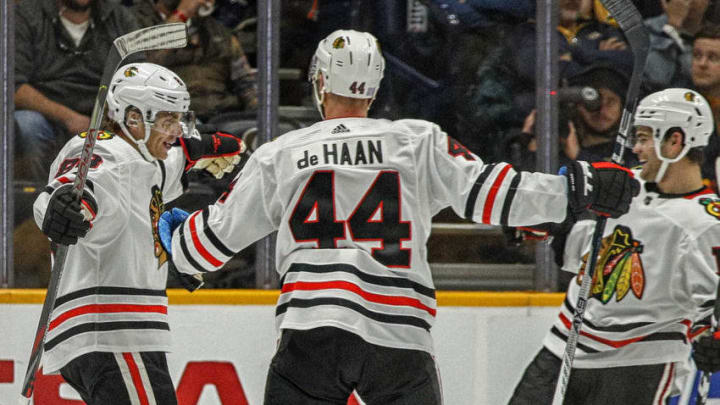 Calvin de Haan, Chicago Blackhawks (Photo by Frederick Breedon/Getty Images) /
Even though we truly didn't get a chance to see what Calvin de Haan could do with the Chicago Blackhawks, I believe they should cut their losses and trade him.
Before we begin, I did like the signing of Calvin de Haan when it first happened, but I think the Chicago Blackhawks swung and missed on this one.
de Haan is making $4,550,000 towards the cap for another two seasons after this one. If the Blackhawks don't truly need him, why not trade de Haan away from some draft picks?
Look, $4,550,000 is a lot of money. Chicago could re-sign Dylan Strome with that kind of money. It's a win-win for the team. They cut $4,550,000 from their cap and they keep Strome. In return, they also could get a second or a third-round draft pick. If he was cheaper, teams might lean towards the second-round.
I can't see a team offering the Blackhawks a first-round pick for de Haan. He is a solid player but his trade value has dropped from his injury. It's hard to tell how well he will play when he returns.
de Haan will be 29 at the start of next season. He is getting close to reaching his full potential and then dropping off. Chicago has seen their fair-share of defensemen drop off in their early 30s. Let's hope they don't do that with de Haan.
Trading him isn't the worst idea. It actually is better than keeping him. The $4,550,000 eats away at a team that already will have a tight cap again in a few seasons. It doesn't make sense to keep that situation going.
Re-sign Strome, re-sign Dominik Kubalik, and continue to build from there. Chicago will have their chance at defensemen, as the next two drafts have a few good ones that could be late-round gems.
They need to make the right move before draft day. If they don't trade de Haan, they will probably draft a forward. If they get rid of de Haan, expect a defenseman coming to Chicago in the draft. That is unless they can get Lafreniere or Byfield.