Blackhawks: Duncan Keith was almost traded to the Flyers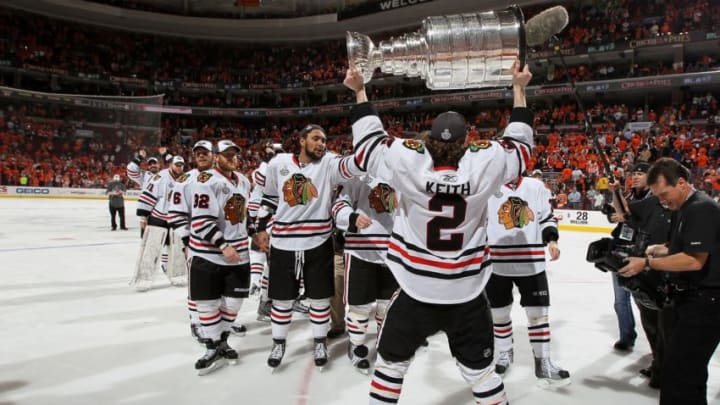 Duncan Keith, Chicago Blackhawks (Photo by Jim McIsaac/Getty Images) /
If there were no 2004-05 NHL lockout, Duncan Keith could very well not be apart of the Chicago Blackhawks dynasty. Instead, names like Jeremy Roenick and Tony Amonte, past there prime, would have been the reason why.
Could you imagine the Chicago Blackhawks without Duncan Keith? Could you imagine Keith without the Blackhawks? I sure as heck can't, and I'm glad I, so far, have never had to see that happen. Well, in 2004, Keith was almost traded to the Flyers.
What benefit did the trade give Chicago? Well, the Blackhawks would have gotten former players Jeremy Roenick and Tony Amonte back, a few years past their prime. They'd be giving up an unproven defenseman who was currently paying his dues in the AHL, instead of spending time in the NHL, when drafted in 2002.
Of course, the 2004-05 NHL season never happened, due to the lockout. If the lockout never happened, Keith would have been traded and both Roenick and Amonte would have most likely finished their careers with Chicago.
Roenick finished his NHL career in 2008-09 and Amonte finished his career in 2006-07. That would have been a major loss for the Blackhawks, as neither player would have been involved in the Blackhawks first Stanley Cup run, if it would have even happened without Keith manning the defensive core.
Now, at the time, I'm sure Blackhawks' fans would have wanted to see Roenick and Amonte back, but they'd quickly regret it the second Keith joined the NHL after his AHL stint. It would be another tale told of the bad trade that sent a future Hall of Famer to a different team to find success there, instead of here.
Bad trades are something that has plagued the success of the Blackhawks' history since the beginning of trading in the NHL.
Let's just be grateful that Keith ended up winning a spot on the main roster following the lockout season and never looked back. From 2006 on, the Blackhawks would draft young stars Jonathan Toews and Patrick Kane, adding more pieces to the puzzle in trades and other draft picks, and would start their dynasty with a Stanley Cup win against the Flyers.
In the series against the Flyers, Keith was on the right side of things, not the Flyers' side.