Blackhawks: The Great Brandon Saad Trade No One Talks About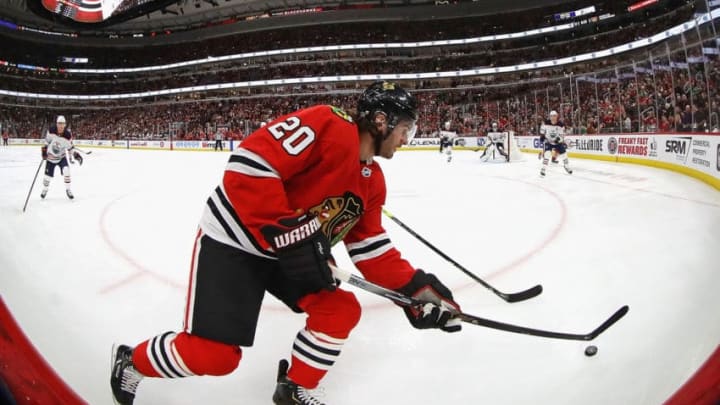 Brandon Saad, Chicago Blackhawks (Photo by Jonathan Daniel/Getty Images) /
The Chicago Blackhawks have involved Brandon Saad in a trade twice in his career. A lot of people have been talking about the second trade that involved Saad, but no one talks about the good one.
After winning his second Stanley Cup in three seasons, Brandon Saad was due for a pay grade. Stan Bowman could see that and knew that it might be best to trade Saad away for something instead of losing him in free agency.
The Blackhawks traded Saad to the Columbus Blue Jackets for Artem Anisimov,  Jeremy Morin, Corey Tropp, and Marko Dano. Anisimov and Dano were the shining pieces in that trade, as Anisimov became the center for Patrick Kane and Dano was a great prospect that the Blackhawks would trade away the following spring.
Chicago managed to turn Brandon Saad into a top-six forward in Anisimov and technically another top-six forward in Andrew Ladd when they used Marko Dano to bring him in. Chicago did not want to give Brandon Saad a very large pay grade after helping them capture their two Stanley Cups, and it worked out for the best because they turned him into multiple assets and depth at forward.
While Corey Tropp and Jeremy Morin did not really become great NHL players with the Blackhawks, they did provide the Blackhawks some depth up front to be alright throughout an entire NHL season. Those two players could easily jump into a bottom-six role if someone fell to an injury midway through the NHL season.
While most people think of the Artemi Panarin for Brandon Saad trade when they think of Saad, I think it is important to try and remember the good trade the Blackhawks made involving Saad. Panarin and Saad are two different types of players, and while Panarin might be better offensively, Saad is a capable threat across the entire ice, with some great backchecking skills and speed to get the puck in the net on the rush.
Hopefully, we will not ever have to talk about another Brandon Saad trade again, as he should remain with the Blackhawks for the rest of his career. what did you think of the original Brandon Saad trade in the summer of 2015?