If Chicago can get past the Oilers, they'll get past Dallas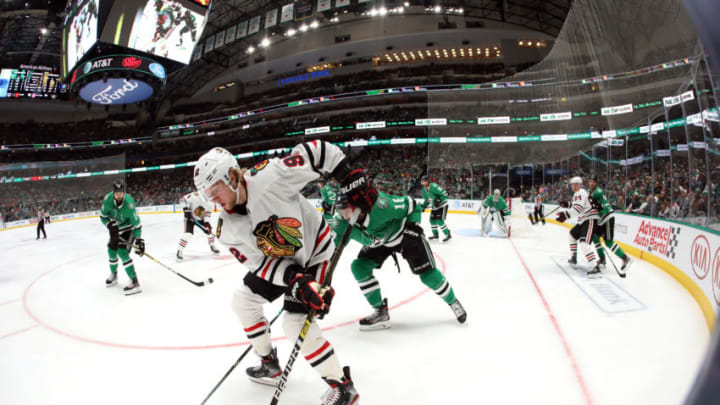 Alexander Nylander, Chicago Blackhawks (Photo by Ronald Martinez/Getty Images) /
There is no denying that the Blackhawks haven't achieved great success this year. Their lucky potential playoff berth could be an opportunity to change the ending to this season's story.
To say that playing playoff hockey has been earned by this team, after the type of season that the Chicago Blackhawks had in 2019-20, would be unjustifiable. Currently sitting in the last place in the Central Division, they wouldn't otherwise normally be part of the post-season conversation. However, with the proposed 24-team playoff format that is currently under review, this Blackhawks team could find an unlikely way in.
If the plan continues to progress, the Blackhawks will faceoff against the Edmonton Oilers in their first series. The winner of that round will earn a spot in what will then be a more traditional 16-team bracket, where the Dallas Stars will be patiently waiting. With the season having been paused since mid-March, teams getting a bye right into the 16-team bracket may not be gaining what would otherwise be a post-season advantage.
That's a lot of time between professional gameplay, let alone playoff hockey. It may impact specific players differently, but as far as team systems and cohesiveness are concerned time away from the game is anything but advantageous.
Whoever wins within those first rounds around the league will surely have an edge up on their next opponent, being in better game-shape once they roll into the second round.
The recent parity in this league has become the norm and it makes for a more exciting and unexpected storyline. Anything can happen. And in the post-season, that's taken to a whole new level. Just ask the 2018-19 Tampa Bay Lightning, who won the Presidents' Trophy but were then swept by the Columbus Blue Jackets in the first round of last year's playoffs.
Facing Edmonton will be a challenge, with league-leading talents like Connor McDavid and Leon Draisaitl, along with dynamic defenders like Darnell Nurse and Oscar Klefbom. But Chicago's elite stars have been here before. Patrick Kane, Jonathan Toews, and Duncan Keith can lead the way, alongside up-and-coming stars like Alex DeBrincat, Kirby Dach, and Adam Boqvist chipping in however possible.
The Blackhawks may not have achieved the results they wanted this season, but there is no denying the talent that's there. If their effort can surpass that of their 12th place finish in the Western Conference, it wouldn't be unforeseen to predict that they'll be moving on to face the Stars.
Dallas won their season series, taking down two of the three games they met, but Chicago collectively outscored them with five goals for and four against. They even shutout the Stars once, which Dallas wasn't able to accomplish against them this season. The Blackhawks also accumulated more overall offense this year with 212 goals for, as compared to the 180 that Dallas scored.
Provided by Hockey-Reference.com: View Original Table
That doesn't mean the Stars are short on firepower potential, with players like Tyler Seguin, Jamie Benn, Alexander Radulov, John Klingberg, and Miro Heiskanen.
Of course, it's not all about scoring. Keeping pucks out of the net matters, too. Ben Bishop has worked his way into being one of the league's goaltending leaders. However, the Blackhawks have seen him in the playoffs before, when they beat the Tampa Bay Lightning to win the 2015 Stanley Cup. That familiarity would certainly help alleviate potential intimidation between the pipes.
As for Corey Crawford, although he hasn't had an all-star type season, there is no telling how this prolonged break from the game might benefit him. He's battled injuries and struggled with inconsistent play in recent years. The Blackhawks will have to wait and see what version of Crawford they get for this hopeful Cup run.
The Chicago Blackhawks are fortunate to be in a position to prolong their 2019-20 campaign. There is no debate in that. But, when it comes to the playoffs, every team has a clean slate and an empty canvas in front of them. If the Blackhawks can battle their way through winning their first series, there's no telling how their post-season painting will look when a champion is crowned.