Chicago Blackhawks: Draft Prospect – Alexander Holtz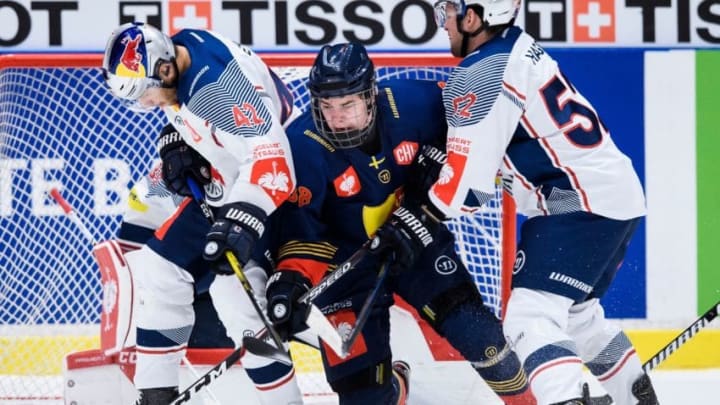 Alexander Holtz, Djurgarden Hockey (Photo by Erik SIMANDER / TT NEWS AGENCY / AFP) / Sweden OUT (Photo by ERIK SIMANDER/TT NEWS AGENCY/AFP via Getty Images) /
While Alexander Holtz is one of the few prospects, I hope falls to where the Chicago Blackhawks could potentially be drafted, I, unfortunately, think he is a top seven lock.
Contrary to his Swedish counterpart Lucas Raymond, the six-foot, 183 pound Alexander Holtz was able to find a bit more luck in the SHL putting up 16 points in 35 games with Djurgårdens IF. Although his upside may not be high as Raymond's, Holtz still posses' elite level offensive skills with a lethal shot.
Holtz is a winger that would significantly enhance the draft pool of the Chicago Blackhawks. With the prospect pool heavily invested in defense and the potential of Kirby Dach and Dylan Strome at the center, the Blackhawks could benefit from drafting a winger of this dynamic. As he enters the league Holtz would be a perfect fit on a line with Jonathan Toews, Strome, or Dach.
Holtz's elite shot and offensive skill should help to create space for other players on the ice. As Holtz develops, he will no doubt become an elite force on the powerplay. Alex DeBrincat or Holtz on the half wall on the right-hand side on both powerplays alone is scary.
I believe Holtz could be everything that the Sabres thought they were getting with Alex Nylander in 2016 plus more. While Nylander has a great release, Holtz already has an NHL caliber shot and has more upside than Nylander during his draft year. His experience against playing with men should also prove beneficial when making the next step.
However, I believe Holtz will play another year in the SHL before making the transition to the NHL. This would mean Holtz would have to adjust to the NHL size ice which could be a bit of hurdle early on.
Future Considerations has him ranked at #5
ISS has him ranked at #9
Mckeen's has rim ranked at #7
Elite Prospects has him ranked at #6
Jokke Nevalainen had some high praise for Holtz and ranked him as the third-best European prospect.
""He is still the best goal-scorer among this group. He has an elite level shot and he's excellent at making himself available for a shooting opportunity." – Jokke Nevalainen"
Steve Kournianos from The Draft Analyst also had praise for the young Swede.
""A deadly goal scorer with smarts whose contributions go beyond putting the puck in the net. Built with a thick frame and possessing powerful leg drive, Holtz is difficult to neutralize when he's on the puck in either full flight or in battles along the boards." – Steve Kournianos"
Unfortunately, I don't think Holtz will be there when the Blackhawks draft unless something unexpected happens. And if the Blackhawks somehow win a lottery pick, I can't envision them drafting him that early. Ultimately, I think Holtz goes anywhere from four-seven.