Blackhawks: Dominik Kubalik shouldn't win rookie of the year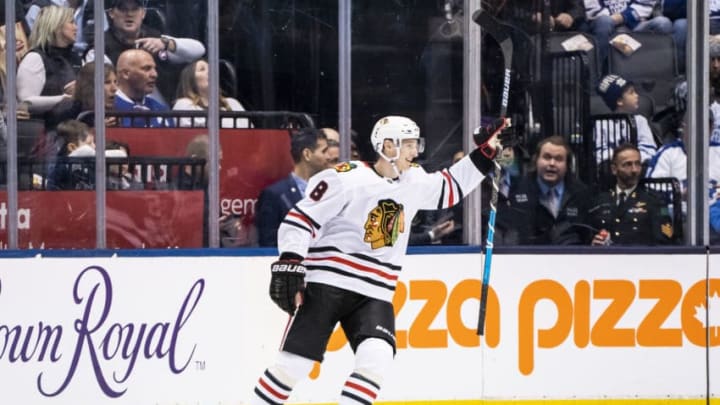 Dominik Kubalik #8, Chicago Blackhawks (Photo by Kevin Sousa/NHLI via Getty Images) /
In the first year in the NHL, Dominik Kubalik has greatly exceeded expectations, but that doesn't mean the Chicago Blackhawks winger should win Rookie of the Year.
Despite Dominik Kubalik's abilities, and what he's helped the Chicago Blackhawks achieve this year, he shouldn't win the Calder Memorial Trophy. (Potential hot take!)
The NHL's Calder Memorial Trophy goes "to the player selected as the most proficient in his first year of competition in the National Hockey League."
The rules as written make it impossible not to consider Kubalik as being among the elite of this year's rookie class. Recently, Mark Lazerus at The Athletic posed the argument that Kubalik should be in the conversation to win I Calder, but I disagree.
This situation is similar to Artemi Panarin's first year in the NHL when he won the Calder in 2016.
What do they have in common besides playing in Chicago? They were both pros before joining the NHL.
I'm not in the camp that believes people should just be showering Connor McDavid with trophies. However, I also think that if you've already been playing pro hockey then you have no business winning an award intended for young players just entering the league.
Other people have made this argument, and I'd like to see the league modify the rules for determining the best NHL rookie on any given year.
In fact, I'd like the NHL to reconsider how it hands out awards overall, but this is a conversation for another time.
There are other reasons to be concerned about Kubalik winning.
First, and this selfish, but if he wins the Calder then he may have the leverage to ask for more money in his next contract. I understand the players want to get paid what they think is fair, but it almost seems like a way to cheat in contract negotiations to give someone who has already been a pro an award as best rookie. This goes along with his numbers this year. (Remember, he was already a pro.)
These are potentially career numbers, but I hope not. He's never had 30 goals in a single season before. Granted, he's also apparently never played as many games as he has (so far) in this current season. His success this season might just be an anomaly. I'm going to cross my fingers that what we saw this year is what we'll see from Kubalik throughout his career in Chicago. Time will tell.
The other reason for not wanting Kubalik is that Kirby Dach is more deserving of consideration for top rookie.
Dach was drafted third overall behind supposed future superstars Jack Hughes and Kaapo Kakko. Lazerus argues that it's basically down to Quinn Hughes, Cale Makar, and Dominik Kubalik. The first two make sense, but the third doesn't. In a more sane world, the spotlight would be on the top draft picks since they all played in the NHL this year. Did they farewell?
Since they don't play for Chicago I won't comment on the others, but Dach was great. He completely surprised me. He skipped having to spend a developmental year in the AHL, and held his own as an 18-year-old, despite having no essentially zero pro experience.
Dach had half as many points as Kubalik, and probably won't have a chance at winning the Calder. The rules make a clear statement that there's no way we can do anything, but consider Kubalik as a strong candidate for winning rookie-of-the-year.
If he wins, hey, cool for him. I just think it may not be the best possible outcome.