Having Las Vegas as a hub city will be tough for Chicago Blackhawks fans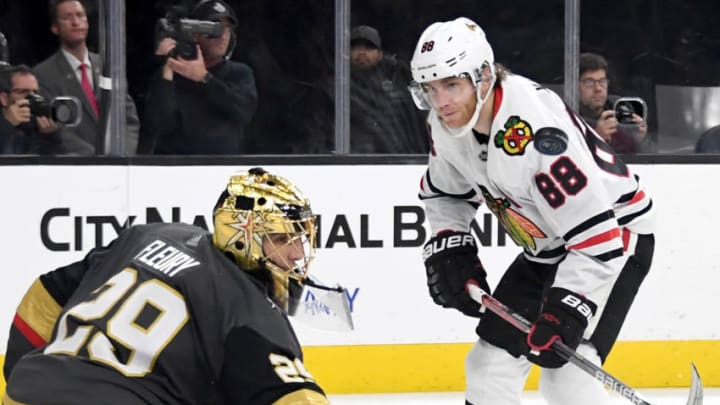 Patrick Kane #88, Chicago Blackhawks (Photo by Ethan Miller/Getty Images) /
Even though Las Vegas is an ideal place to hold the Western Conference Playoff series, it'll be tough for Chicago Blackhawks fans for this reason.
As Chicago Blackhawks fans should know by now, the Stanley Cup Playoffs come with little to no sleep on work or school nights. For the fans that are in school, the beginning of the playoffs won't affect you as much this season, as it starts the first week of August. For the fans who will be returning to work before August, this could be bad news.
Las Vegas is an ideal place to hold games for the Stanley Cup Playoffs. It's a city with a lot of hotels and a place for the players to go out and eat and spend some time, safely of course. There are some concerns I have with Las Vegas being chosen though. It all comes down to time zones.
Chicago is in the central time zone, Las Vegas is in the pacific time zone. Those two cities are two hours apart, where a game starting at 8 PM in Vegas would be 10 PM in Chicago. If you add the eastern time zone, that game would start at 11 PM.
If the NHL is going to choose Vegas as a hub city, it's going to be tough for fans. I personally believe a central or eastern time zoned city would be a better choice, just to make it easier on the fans' sleeping schedule.
I am not sure how the games will be scheduled out. I have heard rumors of the games being played during the day with the last one starting at 8 PM. I have also heard rumors of the NHL having a normal schedule. These are just rumors though, so don't quote me on this.
No matter what the NHL does, it'll affect a certain group of fans. Games during the day affect fans who are working during the day, the late-night games affect fans' sleep schedules.
We'll see what the NHL decides to do. Either way, I am excited for hockey to finally be back!