Blackhawks: Who starts in net – Collin Delia or Malcolm Subban?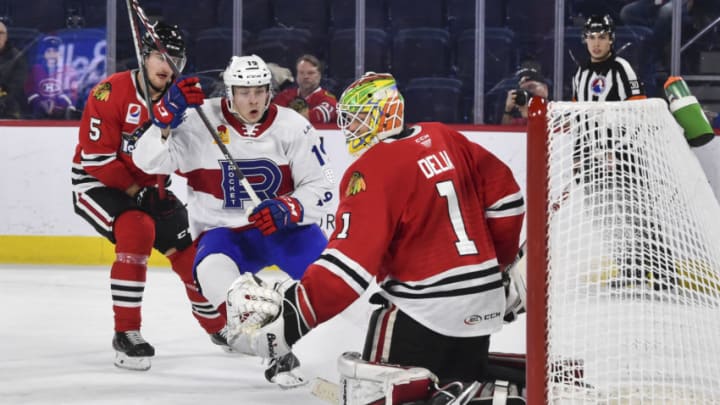 Collin Delia #1, Chicago Blackhawks (Photo by Minas Panagiotakis/Getty Images) /
The Chicago Blackhawks are in a tough spot with Corey Crawford being unfit to play. Chicago now needs to see who starts August 1st, 2020 if Crawford isn't available.
Looking back to early February, the goalie debate for the Chicago Blackhawks was between Robin Lehner and Corey Crawford. After trading Lehner to Vegas, the Blackhawks wouldn't have a solid backup goalie anymore. Now, Chicago finds itself in a sticky situation for the second time this season.
If you don't know by now, Crawford has been deemed "unfit to play", missing the first few days of training camp. This opens the discussion on who will play in net if Crawford doesn't compete in this year's playoffs.
Crawford coming back helps the team, as he is the best goalie they have. He has won two Stanley Cups and has more NHL experience than Collin Delia, Malcolm Subban, and Kevin Lankinen combined.
More likely than not, Delia and Subban will be the two goalies for the playoffs if Crawford doesn't return. Lankinen has struggled a bit this season in Rockford, but he still will have a chance to play, as it's an open competition.
Delia and Subban both have limited NHL experience throughout their careers, with both not touching the ice in the Stanley Cup playoffs yet in their careers. Still, Subban might be the better option, just from the more experience he has over Delia.
In Subban's career, he has faced the Edmonton Oilers three times. He has won the last two meetings, giving up just four goals on 38 shots. If he can play well against the Oilers in the playoffs, he would give this team the best chance to win.
Subban is in a situation where he has nothing to lose and a ton to gain. If he wins the starting job and takes advantage of an opportunity, he could end up being re-signed by the Blackhawks and have a job in Chicago.
On the other hand, Collin Delia is for sure part of the Blackhawks' future. Delia recently re-signed with the team, along with Lankinen. That could leave Subban without a team after the playoffs are over, as he might not be a part of the future plan.
Delia was a decent number two goalie for the Blackhawks last year when Crawford was hurt. and He started in 14 games, going 6-4-3.
Still, no matter who ends up in net for the Blackhawks, it'll be a downgrade from Corey Crawford. The best case is Crawford returns and plays in the playoffs. In the worst case, the team goes with either Delia or Subban and they get some playoff experience.