Blackhawks: Dominik Kubalik had a record-breaking night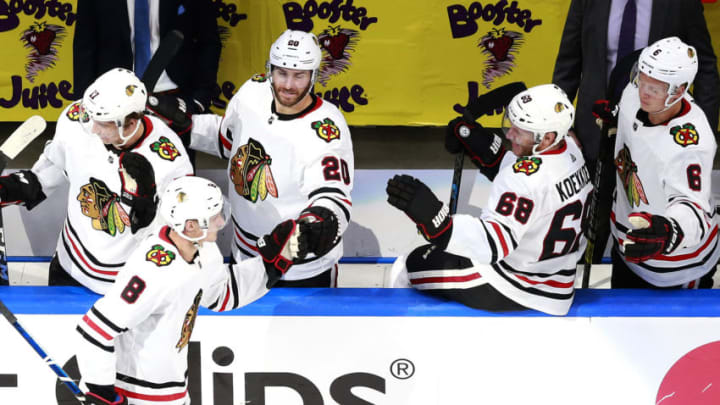 Chicago Blackhawks, Dominik Kubalik (Photo by Jeff Vinnick/Getty Images) /
Dominik Kubalik just keeps elevating his game for the Chicago Blackhawks and no one is complaining about it. Kubalik is going to be a driving force if the Blackhawks are to succeed, this postseason.
Not only did Dominik Kubalik recently get named a finalist for the Calder Trophy given to the rookie of the year, but he is also leaving his mark on the qualifiers and helping push the Blackhawks forward.
Kubalik had five points tonight, two goals and three assists, en route the Blackhawks win. Kubalik's five points broke the record for most points scored by a Blackhawks rookie in a playoff game. The record was held by Steve Larmer who put up four points in the playoffs.
He also put up the most points in NHL history in a player's playoff debut. However considering this is not a playoff just yet, we are only in the qualifiers, I don't know if that should count. This is a wacky year already so we will give it to him, as Kubalik did play a great game.
Dominik Kubalik was a force to be reckoned with all night on the ice and we are going to need him again in game two. Not only do we need him for the life he brings to our offense at five on five, but we also need him for what he brings to the man advantage.
The Blackhawks scored three power-play goals tonight and had six opportunities on the man advantage. We can be better, but if it is was not for Kubalik we would have been a lot worse. Dominik put up two goals and an assist on the man advantage tonight, and he was setting up great passes to his teammates and putting in great one-timers all night.
The great thing about Kubalik is that with time in this series the Oilers are going to start trying to defend him more. The minute they do that we will have Patrick Kane, Dylan Strome, and Alex DeBrincat ready to go out and lead this team offensively.
Now we just have to wait till Monday to see how the Blackhawks respond to a lead in this series! Until then enjoy all of the great hockey we have on today.