Blackhawks: My Concerns Going Into Game 2 Against Edmonton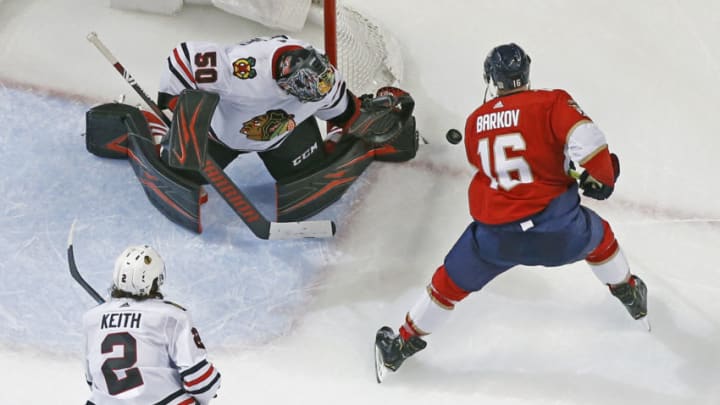 Corey Crawford #50, Chicago Blackhawks (Photo by Joel Auerbach/Getty Images) /
The Chicago Blackhawks take on the Edmonton Oilers tonight at 10:30 PM ET. Here's something that should concern all fans.
So far, everything I've said about the Chicago Blackhawks season has come true. I predicted a playoff spot, even though this playoff spot is different than others. I predicted a win against the Blues, and I predicted a Game 1 win against the Oilers. I've actually predicted the whole series to the Blackhawks while saying I believe this team can win the Stanley Cup.
There's one concern I have going into Game 2. That concern is Corey Crawford.
Why Corey Crawford? He played well in the exhibition game against the Blues, while struggling a bit against the Oilers, but still managed to steal a win! Yeah, he did, but, he gave up a couple of soft goals, goals that you cannot give up in the playoffs.
I'll give him the benefit here for two reasons, one, all of the goals he gave up, the Oilers had more players on the ice (5-on-4/6-on-5), and he didn't have a full training camp, as he was recovering from COVID-19.
Those two excuses don't matter when the puck drops though. If Crawford is going to play, he has to play and give this team the best chance to win. He did enough in Game 1 to give Chicago a chance to win, but he has to do even better going forward.
More from Blackhawk Up
I believe in this team, along with Corey Crawford, but I have concerns. He cannot continue to give up soft goals, as that will be the reason why the Blackhawks were held back. Chicago needs to help him out by staying out of the box. Their 5-on-5 defense was very good, their Penalty Kill defense was spotty at best.
"Blackhawks: What to expect in Game 2 against the Oilers"
I think once Crawford gets warmed up, he'll do better. He only played 30 minutes of hockey against another team during the 142-day layoff before the Oilers game. We'll have more of an idea tonight on everything. If Crawford plays well, this team can do some damage in the playoffs. If Crawford struggles early and the offense has to carry the team, they won't be making it very far.