Blackhawks: Young players success factors into wins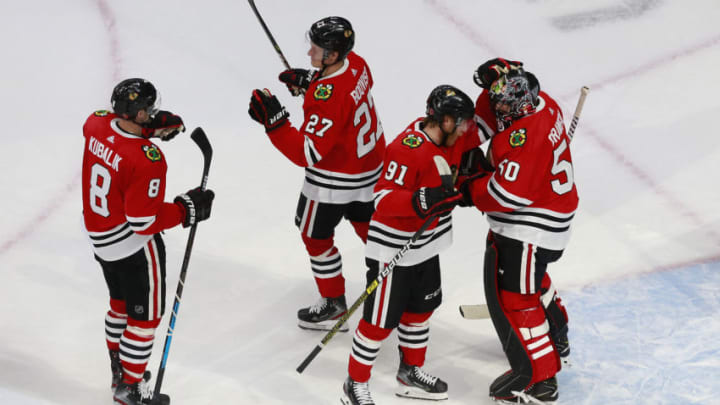 Chicago Blackhawks (Photo by Jeff Vinnick/Getty Images) /
The Chicago Blackhawks young players have helped the team gain a 2-1 lead over the Edmonton Oilers.
I had a good feeling about this team the second the puck dropped for the 2019-20 NHL season. The Chicago Blackhawks might have not had the best regular season, but they're making up for it, as they lead the Oilers 2-1 in a best-of-5 series.
For starters, I'd say Kirby Dach is the most improved player from the regular season to now. I wrote a piece explaining why I thought Dach, Dominik Kubalik, and Adam Boqvist would improve from the NHL pause. I explained then that the long layoff is almost like an offseason for these rookies, so the playoffs are like the start to their second season.
It's come true so far, with Dach earning a spot on the second line with Patrick Kane. Kubalik had 5-points in his playoff debut, which is an NHL record. Adam Boqvist has played well defensively, as he has been trusted to hold down the defense with Duncan Keith on the first line.
Going through the roster, the young players have helped boost the Blackhawks veterans. There are still some growing pains, especially on defense, but these guys are young, with the average age being 25.
Alex DeBrincat and Dylan Strome haven't been as consistent and explosive as I've wanted them to be, but Alex Nylander, Drake Caggiula, and Brandon Saad have improved and helped the team in a way I expected DeBrincat and Strome to.
This team really is young. They have their core veterans, but Jonathan Toews and Patrick Kane and still in their early 30s. Their defense is pretty young, besides Duncan Keith and next year Brent Seabrook being in their mid-to-late 30s. Of the 34 different players who wore a Blackhawks sweater this season, only 5 of them were 30 or older.
So, with the youngest team in the playoffs being the Blackhawks, and them closing in on their first playoff series win since 2015, the experience they're getting is crucial to future success. I think the better they do in the playoffs this year will impact them on an even better 2020-21 regular season, where they'll make the playoffs.
"Blackhawks: Kirby Dach's playoff point-streak compares to Eddie Olczyk"
The future is bright in Chicago, they just have to continue to build from here. The only issue will the salary cap in a few years. These younger players will need to be paid, that's when things will get tricky for the Blackhawks again.