Why the Blackhawks need to win Game 4 vs Oilers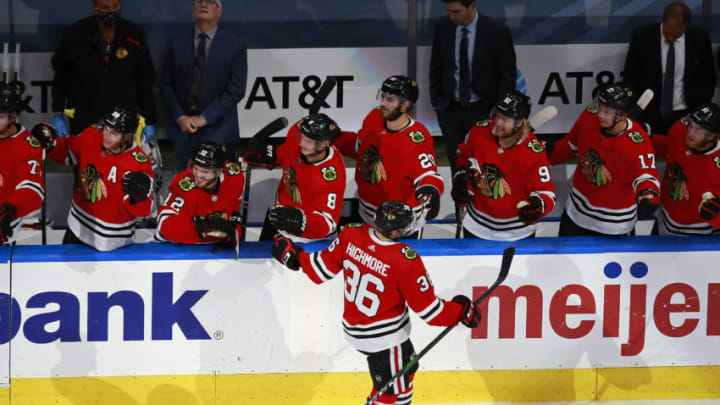 Matthew Highmore #36, Chicago Blackhawks (Photo by Jeff Vinnick/Getty Images) /
Tonight, the Chicago Blackhawks will have their first chance to close out the series against the Edmonton Oilers. Here's why it's must-win.
If the Chicago Blackhawks get the job done tonight, they'll move into the "sweet-16" of the 2020 Stanley Cup Playoffs. It'll be the first playoff series they've won since 2015, and they'll get some rest until sometime next week when the next series starts.
The Blackhawks are the home team again tonight, so that gives them the last change on faceoffs. Even though it wasn't a pretty one, the Blackhawks took advantage and won Game 3 because of that. They shut down Connor McDavid for most of the game, throwing either Jonathan Toews or Kirby Dach on him.
They cannot give the Oilers breathing room, they have them pinned against the ropes. Chicago has to play their best hockey for the next 60-minutes, to win the series and give them a chance to breathe before their next series, which will be against the number 1 seed from the round-robin round.
If the Blackhawks can win this series in 4, they've knockout the best two players in the NHL, the best offense, the best Power Play, and the second-best Penalty Kill. The only thing they'll face differently with either the Avalanche or the Golden Knights is a better defense. The offenses of both teams don't compare to the Oilers and the weapons they have.
This truly is the hardest matchup for the Blackhawks. Not to get ahead of myself, but this team has a real good shot if they win tonight.
Lastly, for those fans who would rather see them lose and pray they get the first pick in the draft, don't… Trust me, the odds of them getting the pick aren't in their favor. Would you rather see them lose the next two games and end up with a mid-first round pick? I don't think so.
"Blackhawks: Corey Crawford Achieves Elite Milestone With Game 3 Win"
Root hard for them to win this game and see how far this young team can go in the 2020 Stanley Cup Playoffs! Game time is 5:45 PM CT tonight!