Why the Chicago Blackhawks would be better off facing the Vegas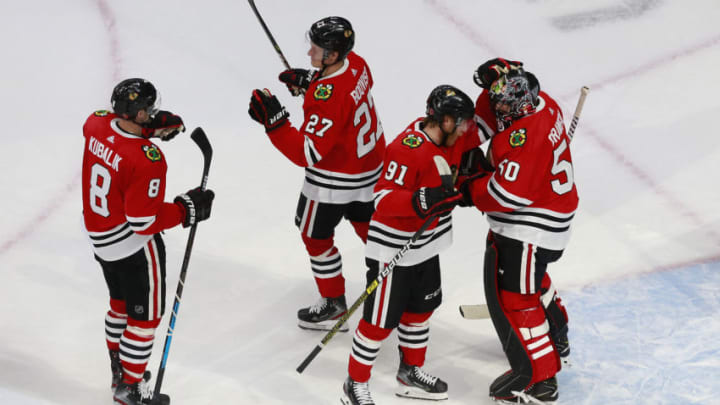 Chicago Blackhawks (Photo by Jeff Vinnick/Getty Images) /
The Chicago Blackhawks just finished their qualifying season against the Edmonton Oilers and they are not looking back. Now, this is where the real fun begins, in the playoffs!
Just think of the opportunity the Chicago Blackhawks have in the coming weeks. I know that we can not be greedy, but Chicago will have an opportunity to play for the Stanley Cup for the first time since 2017. This team does have great leadership and has a lot of young talent, so there is no telling where we can go.
While we sit here and enjoy where the Blackhawks are, I think it is important to look forward to the coming weeks and try and figure out who would be the Blackhawks' ideal opponent. It is going to take a lot of bounces for the Blackhawks to move into the second round, and it is also going to take a good opponent.
Chicago is going to play whoever does the best in the round-robin tournament that has been playing out the past few days. It is either going to be the Colorado Avalanche or the Vegas Golden Knights. While both teams do pose threats that might leave the Blackhawks out of the second round, I think that the Golden Knights might be a more ideal candidate for the Blackhawks.
Vegas has given up seven goals compared to the Avalanche's one goal that they gave up so far. While it is going to come down to today's game, I think everyone can see how good Colorado has been this season. Colorado is a team, like Edmonton, that has a few good lines that can really control the speed of a game.
While Vegas does have a great offensive game as well, I believe they have less speed and talent that can shut down the Blackhawks. The only thing that worries me about Vegas is how physical they are. But, we will just have to take that and keep pushing like the Blackhawks have done in the past in the playoffs.
"Who the Blackhawks want to face after winning their Qualifying Round"
Luckily, we will not have to wait too long to see who Chicago will play next round as the Vegas Golden Knights and Colorado Avalanche are facing off in a game today that will determine who is the number one seed in the first round. Let us know down below who you will be rooting for in their round-robin game!