Blackhawks vs Golden Knights: Stanley Cup Playoffs Round 1 Preview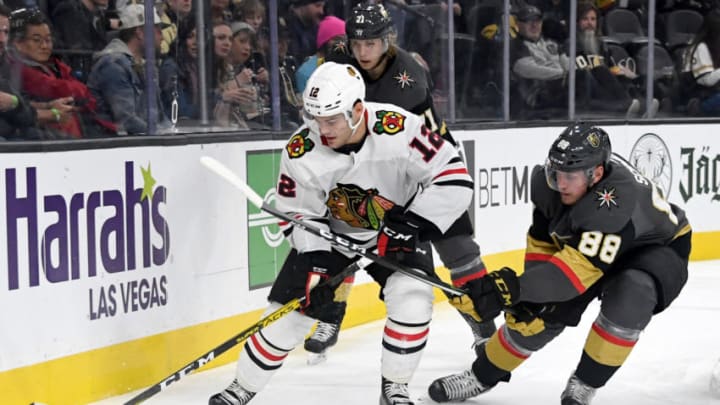 Alex DeBrincat #12, Chicago Blackhawks (Photo by Ethan Miller/Getty Images) /
After an exciting battle and upset during the Stanley Cup Qualifiers, the Chicago Blackhawks proved that they are a team that could make some noise throughout the Stanley Cup Playoffs.
Introduction
Coming off of a shocking upset over the Edmonton Oilers during the play-in rounds, the Chicago Blackhawks look to be firing on all cylinders. This is almost perfect timing, as the First Round of the Stanley Cup Playoffs gets underway on Tuesday evening.
Chicago's opponent for their opening-round series is the Vegas Golden Knights. While the Knights have not been in the league for very long, the Blackhawks are quite familiar with their foe. First of all, many of you might remember that rookie phenom Kirby Dach tallied his first career NHL goal against the Golden Knights when they visited the United Center on October 22nd, however, the Hawks were unable to record the victory that night. Finally, after the Windy City failed to beat Vegas the first 7 times they played against each other in franchise history, they were able to register a victory against the NHL's newest team this past November.
On that night, the Blackhawks were able to walk away with a 5-3 victory at T-Mobile Arena. Dach had a goal and an assist in the matchup, while Dylan Strome and Patrick Kane each contributed a goal and two helpers as well. Chicago played a very good game that night, as eight Hawks players were able to record at least a point.
When the two teams played again on December 12th, it was a different story. Vegas again laid a hefty 5-1 beatdown on the Windy City. The victory helped the Golden Knights edge out the Hawks in the season series, with Vegas winning 2 games compared to Chicago's 1.
If that didn't cause enough drama already, a deal on Trade Deadline day between the two franchises only stirred the pot that much more. In a deal that the majority of Hawks fans would like to forget, Chicago shipped off starting goaltender Robin Lehner to Vegas in exchange for Malcolm Subban, Slava Demin, and a 2020 second-round draft selection.
Key Statistics, Players, Etc.
Team Records:
Vegas Golden Knights (39-24-8, 86 Points) #1 Seed in Western Conference
Chicago Blackhawks (32-30-8, 72 Points) #8 Seed in Western Conference
Special Teams Statistics:
Vegas Golden Knights: Powerplay- 22.0% (9th in the NHL), Penalty Kill- 76.6% (27th in the NHL)
Chicago Blackhawks: Powerplay- 15.2% (28th in the NHL), Penalty Kill- 82.1% (9th in the NHL)
Goals For/Goals Against:
Vegas Golden Knights: Goals Scored- 224 (10th in the NHL), Goals Against- 209 (14th in the NHL)
Chicago Blackhawks: Goals Scored- 208– (19th in the NHL), Goals Against- 214 (16th in the NHL)
Vegas Players to Watch: William Karlsson, Jonathan Marchessault, Reilly Smith, Max Pacioretty, Mark Stone, Shea Theodore, Marc-Andre Fleury, and Robin Lehner
Blackhawks Players to watch: Patrick Kane, Jonathan Toews, Dominik Kubalik, Duncan Keith, Adam Boqvist, Brandon Saad, Alex DeBrincat, Matthew Highmore, Olli Maatta, Calvin de Haan, and Corey Crawford
(Stats via NHL.com)
Analysis:
Vegas has come off of an impressive string of games as well. Since hockey returned, they have been undefeated in the three games that they have played so far. They defeated the St. Louis Blues, Dallas Stars, and Colorado Avalanche, all of whom look to be contenders to potentially win the West. Because of the victories, Vegas earned the #1 seed in the Western Conference. The offensive production has been very steady in those matchups, as the Golden Knights have scored at least 4 goals in each of the three victories.
Vegas's offensive outlook looks to get even better too, as it was announced that regular season leading goal-scorer Max Pacioretty will return to the lineup for Game 1. Pacioretty did not participate in the first three round-robin games that the Golden Knights have played.
https://twitter.com/Sportsnet/status/1292561903353552896?ref_src=twsrc%5Etfw
Besides Pacioretty, the Blackhawks will also have to look out for former Ottawa Senator Mark Stone, who notched an impressive 63 points in only 65 games played this season. Reilly Smith had another consistent season, crossing the 50 point mark for the fifth time in his career. Fresh off of a two-goal performance against the Avalanche on Saturday, Jonathan Marchessault looks to get in on the action, along with his linemate William Karlsson who is also a former 40 goal scorer.
On the blue line, Vegas again is pretty solid. While they do not have one "franchise" defender, the model of consistency and teamwork they display helps them to manage games very well. Shea Theodore continues to put up stellar numbers ever since he was selected in the NHL Expansion Draft, and Nate Schmidt also had a very good season tallying 31 points. The Golden Knights also have a former Stanley Cup-winning defenseman in the likes of Alec Martinez. As you can see, they have a considerable amount of depth on the back end.
Lastly, do I really even have to breakdown the goaltenders? I mean come on. Marc-Andre Fleury is a future Hall of Famer with three Stanley Cup rings. We all know what "flower" is capable of, and given all of his postseason experience between the pipes, it could be difficult for the Hawks to put pucks into the back of the net. As for their backup goaltender, I'm pretty sure you've all seen him play a time or two, and are smart enough to know that Robin Lehner is a pretty damn good backup goalie to have in the playoffs.
The Verdict:
The Blackhawks will be tested a lot during this series. While Vegas is not as strong on special teams as the Oilers were, they do a very good job of wearing down opposing teams with physicality and their energy level. They have an insane amount of depth in their lineup, meaning that anybody can score at any given time. If the Blackhawks want to stand a chance in this series, they will have to match Vegas's effort level. If they slip up, expect Vegas to take full advantage.
Chicago also needs to keep up their depth scoring. A lot of different faces tallied points in the opening series against Edmonton, and the Hawks will need to continue doing this in order to keep up with Vegas. If they can succeed at this, they stand a decent shot at advancing to the next round.
Game 1 of the First Round series is scheduled for another late start. Puck drop is scheduled for approximately 9:30 p.m. CT on Tuesday.