Blackhawks' fans don't need to panic after Game 1 loss, just yet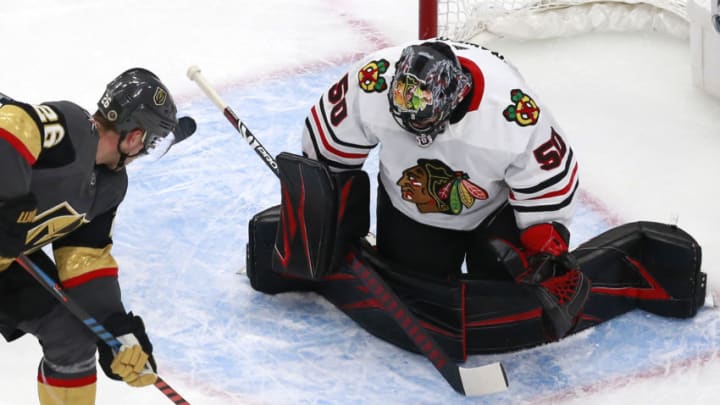 Corey Crawford #50, Chicago Blackhawks Photo by Jeff Vinnick/Getty Images) /
Fans of the Chicago Blackhawks shouldn't panic after a Game 1 loss to the Vegas Golden Knights. There's still a long series in front of them.
There isn't a need for us fans to panic yet after the Chicago Blackhawks lost Game 1 4-1, last night. The Blackhawks have been in this position just last series against the Oilers and battled back to take the rest of the series.
There was a lot of bad that happened last night. To start the game, the defense was unreal. Corey Crawford was playing well, but the offense just wasn't there. As the game went on, the offense didn't fully wake up and the defense started to bend. Fast forward, Chicago loses 4-1.
Let's look back at the 4 goals Crawford gave up:
Goal 1: Great shot from the point, with little to no chance of Crawford saving it. It's a puck that Crawford wishes he could have back, but it's a great shot. Crawford was battling through a screen right before the puck was shot. I don't fault him for that one.
Goal 2: Okay, this was hard to watch. There's a missed interference call by the referee, as Matthew Highmore is hit without the puck and falls into Crawford's crease. The puck goes near Highmore and it's just there to be tapped in the net. Also, there were offsides on the play, but it wasn't called back. Either way, two missed calls, not on Crawford.
Goal 3: With the game being 2-1, this is where Crawford needs to be locked in and focused. Reilly Smith puts the puck to the net and it bounces right off of Crawford's shoulder and into the net. I mean, come on. It's bad puck luck but it's a shot that every goalie at the NHL level needs to get. That's Crawford's fault.
Goal 4:  A beautiful push to the net and the puck goes top shelf off of Smith's backhand. It was a defensive breakdown and hard to blame Crawford there. Still, it counts. 4-1 Vegas.
Game Highlights:
No Need To Panic Yet:
After discussing the 4 goals given up, there's your first reason why fans shouldn't panic. The scoreboard sometimes is deceiving, tonight, it was. The issue came from the lack of shooting the puck from Chicago. They were outshot by Vegas, they went on runs without getting a puck on the net (longest being 9 minutes), and missed many chances to score.
Missing chances happen. Teams have off nights. Chicago had an off night. That intensity they played with in Game 4 against the Oilers just wasn't there last night. The team seemed flat, out of it, and quiet. Their defensive play was good for the most part, which is promising.
If the offense can wake up, this will be a fun series. They just need Patrick Kane to wake up! He is the guy that can single-handly turn an entire game around if his line catches fire. Kirby Dach and he are turning into a solid partnership, they just have to start scoring before they're split up.
Overall, the defense looks improved, Crawford played well for most of the game, and their only glaring issues came on offense. They were flat, it's simple. I really like how this team is embracing this underdog role they've been given. They seem stress-free and ready to capitalize on every chance they get these playoffs.
"Blackhawks: Patrick Kane struggles again in Game 1 loss"
Game 2 is tomorrow at 4:30 PM CT. I'm expecting a full bounce back from the Blackhawks. They have a really good chance to turn this series around. Keep improving on defense and get pucks in the net!