Chicago Blackhawks: The Reason for hope after Game 1 against Vegas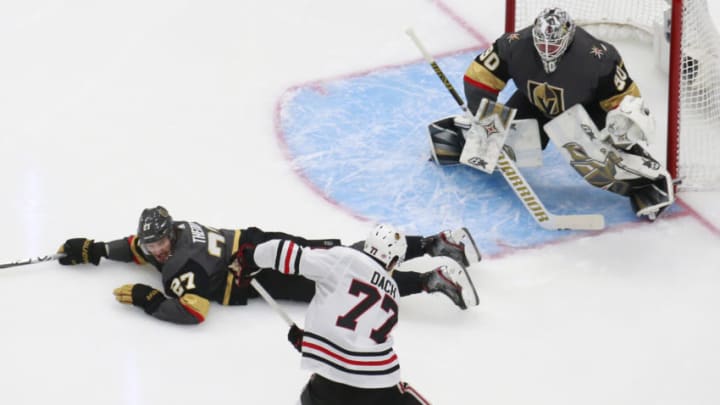 Chicago Blackhawks, Kirby Dach (Photo by Jeff Vinnick/Getty Images) /
No one is going to disagree with the fact that game one was bad for the Chicago Blackhawks against the Vegas Golden Knights.
The Blackhawks just did not show up to play, and it was frustrating. Even though we were scoreless after the first period it did not feel like we were in a close game, and then Vegas got started in the second period.
The Blackhawks looked like they did not want to wake the beast that is the Vegas Golden Knights. While we are not considered favorites for this series by any means, I still believe we have a shot. We have a lot of talented players on this hockey team, all they have to do is show up to play.
We have seen Alex DeBrincat play great in the past, we are one year away from him putting up 40 goals. Yet DeBrincat has been silent throughout all of the Blackhawks playoff run thus far. We have seen Patrick Kane score a point per game throughout most of the regular season, and yet he has not done much in the playoffs.
I know that Jonathan Toews, Dominik Kubalik, and Brandon Saad have been great for the Blackhawks just to get to this point, but I want to see other players shine as well. I think the biggest reason for optimism after game one is the fact that the Blackhawks did not play a good game by any means.
More from Blackhawk Up
If we lost a game that we played great in, then I would feel discouraged going into game two, however, we played horribly. The Blackhawks can elevate their game a lot more than they did heading into game one. Maybe they just were not ready to play. There is no reason to hit the panic button just yet.
The Blackhawks should have a little hope going into game two because they did not play a great game and can elevate their game more. Vegas looked like they were at their best, this is a long series and we can easily steal a game and make a new outcome.
The Blackhawks are going to need to have some players elevate their game in order to succeed. I want to see Patrick Kane dominate a game like he was doing even in the regular season, and I want to see Dylan Strome and Alex DeBrincat remind the fans in Chicago why they are two members of this young core, otherwise, we might not have a place for them moving forward.
Game two is tomorrow, and while game one was definitely a letdown, there is still time for the Blackhawks to change their fate!