Chicago Blackhawks vs Vegas Golden Knights: Game 2 Preview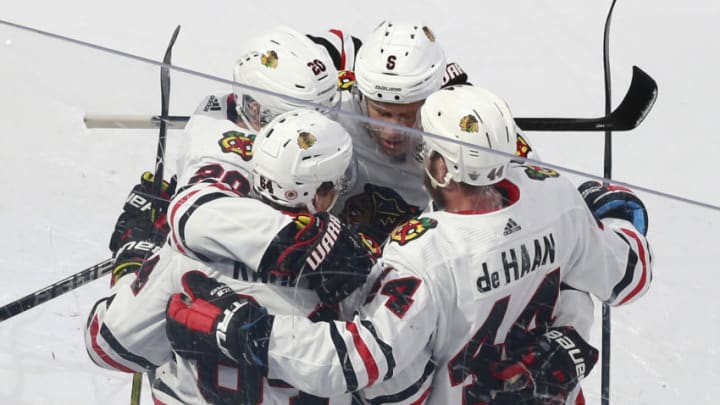 Chicago Blackhawks, Calvin de Haan, David Kampf (Photo by Jeff Vinnick/Getty Images) /
The Chicago Blackhawks are heading into a must-win game today against the Vegas Golden Knights if they want to even this series at one game apiece.
Playoff Records:
Chicago: 3-2 
Vegas: 4-0
Blackhawks' Team Leaders:
Jonathan Toews – 7 points (4G, 3A) 
Dominik Kubalik – 6 points (3G, 3A) 
Olli Maatta – 4 points (2G, 2A) 
Projected Lines:
Forwards: 
Brandon Saad — Jonathan Toews — Dominik Kubalik
Alex DeBrincat — Kirby Dach — Patrick Kane
Alex Nylander — Dylan Strome — Drake Caggiula
Matthew Highmore — David Kampf — Ryan Carpenter
Defense:
Calvin de Haan — Connor Murphy
Olli Maatta — Slater Koekkoek
Goalies: 
The Chicago Blackhawks had their spirits crushed in game one. After a great showing against the Edmonton Oilers and steamrolling into the playoffs it looked like the Blackhawks were set to make some noise this postseason. Vegas, however, has other ideas.
The Golden Knights managed to shut down the Blackhawks in an electrifying fashion in game one. It makes Blackhawks fans wonder whether or not we are going to see players like Jonathan Toews and Patrick Kane back together on the same line once again, especially with how little Kane has shown up in this series.
it is rare when we do not see Kane lead the Blackhawks in points and that is what we are witnessing right now. If you want to succeed you need your top guys to be the top guys on the team, and we just are not getting that thus far from the Blackhawks.
We are seeing sparks of greatness from this unit. Kirby Dach has shown that he deserved to be taken third overall, and so many other players are stepping up like Dominik Kubalik. However, at the end of the day, we need our top guys to score.
This is a must-win game for the Blackhawks if they want to have any chance in this series. Falling behind 2-0 after a dismal game one is not going to lead to the Blackhawks moving into the second round so the Blackhawks need to show up ready to play against Vegas.
Vegas Leads the Series 1-0
Golden Knights' Team Leaders:
Shea Theodore: 5 points (3G, 2A)
Reilly Smith: 5 Points (2G, 3A) 
Mark Stone: 5 Points (2G, 3A)
Projected Lines:
Forwards : 
Max Pacioretty — William Karlsson — Mark Stone
Jonathan Marchessault — Paul Stastny — Reilly Smith
Chandler Stephenson — Nick Cousins — Alex Tuch
Will Carrier — Nicolas Roy — Ryan Reaves
Defense: 
Brayden Mcnabb — Nate Schmidt
Alec Martinez — Shea Theodore
Goalies:
One of the most compelling stories for Blackhawks fans moving into this series was who the starter will be for Vegas. Obviously we all know the history the Blackhawks have with Robin Lehner. Lehner is a big reason the Blackhawks are in the position they are thanks to some of the games he stole for the team back in December and February, so honestly, I want to see him succeed, just not against us.
I believe the Golden Knights will go back to Lehner again in game two. He played solid in game one and helped secure the win for Vegas. The scary thing is that even if he falters and gives up a few goals, Marc-Andre Fleury is just as capable of a goalie.
I would not expect any major lineup changes for the Golden Knights. They are a capable team that can take care of business in any type of setting whether it be five on five or special teams. Vegas is going to be playing physical as that is one of their strengths, hopefully, the Blackhawks just continue to try and play their game.
Who Has The Edge?
Just like Game 1, the Golden Knights (-190) are favored by 1.5 goals. This is something that Chicago is used to, as they've been the underdog in every game they've played since the NHL has returned, even when they were leading the series against the Oilers. The over/under is 6.5 goals. *Odds subject to change*
Puck Drop is at 5:30 PM ET. Make sure to follow along on our Twitter page during the game, and come back here after the game for post-game reactions! Let's Go Hawks! #AllForOne
Watch the NHL on NBC and NBCSN on fuboTV! fuboTV is a service that broadcasts live TV over the internet, no cable required. Watch your favorite hockey teams with a free 7-day trial, network shows, news, and movies on 100+ channels. Plus on-demand entertainment including full TV series.